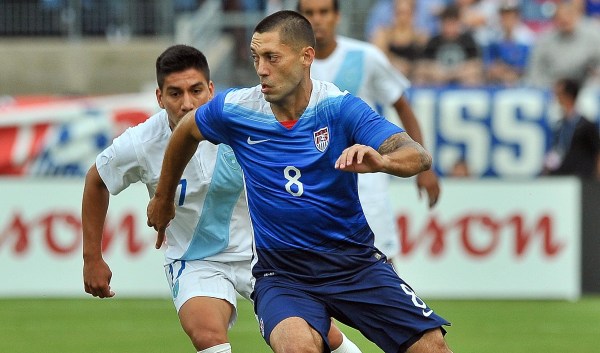 photo by Jim Brown/USA Today Sports
By FRANCO PANIZO
Clint Dempsey is not dwelling on the past nor is he concerning himself too much with losing the captain's armband.
Instead, he is focusing on helping the U.S. Men's National Team any way he can.
Dempsey played in his first competitive game in nearly two-and-a-half weeks on Friday, helping the Americans defeat Guatemala, 4-0, in their final CONCACAF Gold Cup tuneup. But the friendly marked more than just his return to action for either club or country, as Dempsey did not serve as the U.S. captain for the first time in two years.
U.S. head coach Jurgen Klinsmann took the armband away from Dempsey and gave it to veteran midfielder Michael Bradley earlier this week. The decision was not entirely surprising given Dempsey's recent run-in with a U.S. Open Cup referee and is one that the 32-year-old forward understands and has no resentment about.
"It's cool," said Dempsey after the victory at Nissan Stadium in Nashville, Tennessee. "Michael is a great leader, he deserves to be captain, and for me, I'm just excited to be part of the team that is trying to push to win the Gold Cup and be a part of the Confederations Cup.
"I got to experience being captain during the World Cup, and for me that was something special and I'll always remember it, but it's never been a big thing for me to be captain. Even with my club team in Seattle I'm not the captain. For me, it's just about the team and just trying to win and win games and trying to do something special."
Dempsey also briefly addressed the recent referee fiasco that resulted in him earning a three-game suspension in MLS. Dempsey – who was sent off for taking a match official's notebook and ripping it up – said he had moved past the incident and was solely concentrating on helping the Americans successfully defend their Gold Cup title.
"That's something I've put behind me," said Dempsey. "I've talked with my teammates, talked with coaches. I'm just focused on moving forward, focused on the Gold Cup and making sure we win it, and putting ourselves in a position to make sure we're qualifying for the Confederations Cup."
Dempsey helped the U.S. prevail in its final friendly before the start of the Gold Cup on July 7. The Seattle Sounders forward turned in a 90-minute shift against Guatemala and scored an insurance goal in the second half, hitting a "panenka" penalty kick in the 72nd minute of the victory.
"For strikers, it's always about getting the goal," said Klinsmann. "He got the goal. I think that kind of helped and lifted him. We saw that after the goal, he kind of got a better rhythm, and he was more mobile."