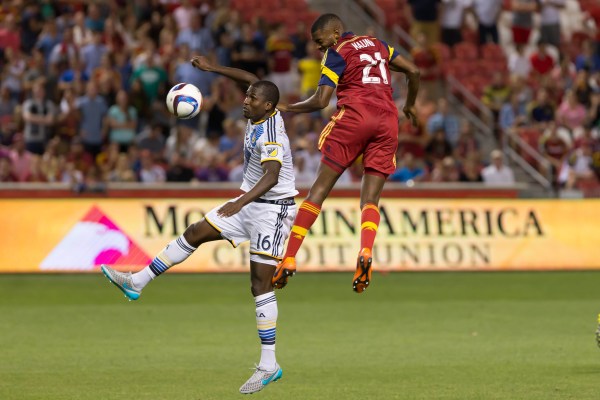 Photo by Chris Nicoll/USA TODAY Sports
By AARON CRANFORD
Real Salt Lake hasn't had much to hang its hat on in 2015, but its hope for end-of-the-season silverware is still very much intact.
RSL advanced to the semifinals of the U.S. Open Cup Tuesday after Aaron Maund headed in the game-winning goal in the 87th minute against the visiting LA Galaxy.
Both sides trotted out first team members and each had its opportunities to take the lead throughout the 90 minutes of play. Steven Gerrard made his competitive debut, and he almost found his first goal for the Galaxy in the 54th minute, but a save from Jeff Attinella kept the scoreline level.
Just before Gerrard's attempt Joao Plata had an opportunity of his own on the other end, but he also couldn't find the back of the net.
With the match seemingly destined for extra time, Luke Molholland sent in a cross from the right wing and Maund rose high, heading the ball into the far-right corner of the net — his first professional goal. Galaxy goalkeeper Brain Rowe stood still as the header flew by and the crowd erupted behind him.
The Galaxy must now turn right around and host the San Jose Earthquakes in MLS  play on Friday, while RSL will host the Houston Dynamo the next day.
Who do you think will meet RSL in the semifinals of the U.S. Open Cup (Houston Dynamo or Sporting Kansas City)? Think RSL can lift the trophy this year?
Share your thoughts below.