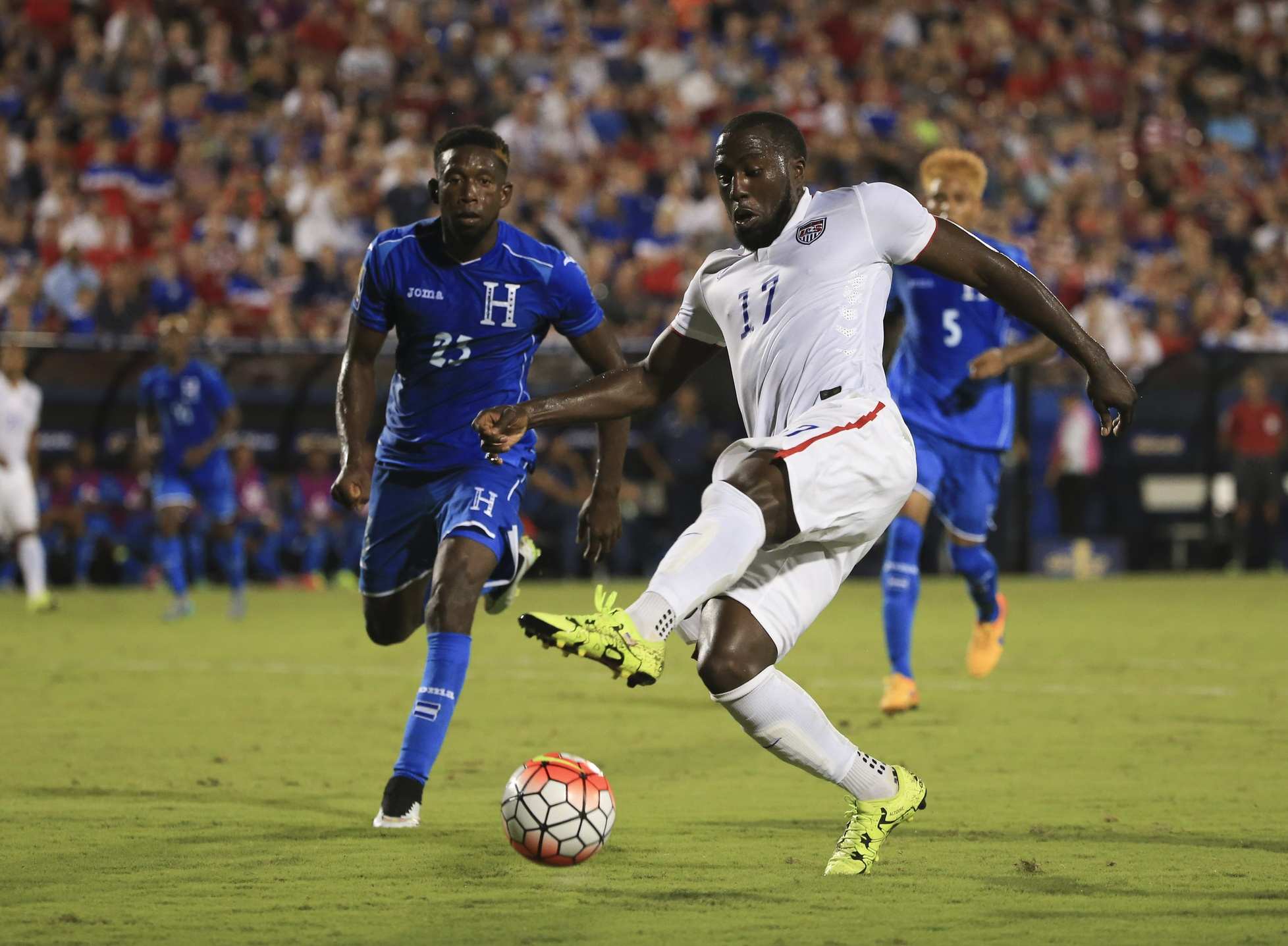 Photo by Kevin Jairaj/USA Today Sports
By RYAN TOLMICH
FOXBORO, Mass. –Jozy Altidore has always taken pride from wearing the jersey of his national team, but Friday night's contest will be all the more special for him due to the opponent.
The U.S. Men's National Team takes on Haiti on Friday night, pitting Altidore against a country that he holds dear to his heart. Born in New Jersey to Haitian parents, Altidore has always felt a special connection with the Haitian people, while revealing that, as a child, he was a frequent watcher of the very team he will be playing on Friday evening.
However, Altidore's connection to the island nation has grown even stronger in recent years, as he spearheaded numerous charity efforts in the aftermath of the 2010 earthquake that caused mass destruction in the country.
Altidore, who wears a wristband displaying both the American and Haitian flag, founded a non-profit organization in 2011 with the aim of helping provide clean water and opportunities for the children of Haiti. Having invested so much of himself towards helping the country, Altidore is now looking forward towards playing Haiti for the first time in a place far away from the country's struggles: the soccer field.
"I'm always doing stuff," Altidore said Thursday. "I'm always making donations myself and taking donations. I'm working on the next project right now and hopefully I'll have some news in the future, but I'm looking forward to the game and seeing all of the Haitian fans out there tomorrow. It'll be nice.
"I'm excited. I haven't thought much about it, but I look forward to it. Hopefully if I'm on the field, it will be fun. It will be a good moment for me in my career."
Friday night may be a special moment for Altidore's career, but for head coach Jurgen Klinsmann, Altidore's participation in the Haiti matchup will be for much more than sentimental reasons.
Recovering from a hamstring injury heading into the tournament, Altidore is still finding his legs, something that was quite apparent in Tuesday's win over Honduras. Fresh off his return on the club level, Altidore has yet to reach his top gear, as the forward was subbed off early in the second half of Tuesday's win after a largely ineffective contest.
For Klinsmann, that action was imporant, as would any presented to Altidore in Friday night's match. The head coach insists that Altidore is currently part of a system that is meant to build fitness through training and, more importantly, game action.
"We've got to get them on the same page and this process is still ongoing," Klinsmann said. "We have Jozy that game (back) from injury. We build him, we play him and we hope that this kind of gels more and more and more every game and every day we are on the training field.
"The process is going fine and the process needs to get results. We need to make sure that we get three points and move on."
Altidore is more than ready to move on from his current injury struggles, as the forward continues to look forward to better days as the tournament rolls on.
Ahead of Thursday's training, Altidore said that he continues to improve, but isn't quite where he feels he needs to be to play at his peak. However, the forward remains confident that those days are not long off and that he will continue to do whatever is best for the team, even if Klinsmann does opt to make the move to include someone more inclined to go 90 minutes.
"I'm feeling better and better every day," Altidore said. "It's tough for everybody. (The Gold Cup) is not easy to play in, but hopefully it will be a bit cooler and we'll be a bit sharper and it will be a better game.
"It's always tough when you have to play catch up, especially in a competition like this when there's not much time. At the end of the day, I'm happy to be here to help the team. I'm not the guy that's going to come in and do some type of thing. I'm happy to be here and any part I can play, I'm happy to do it."