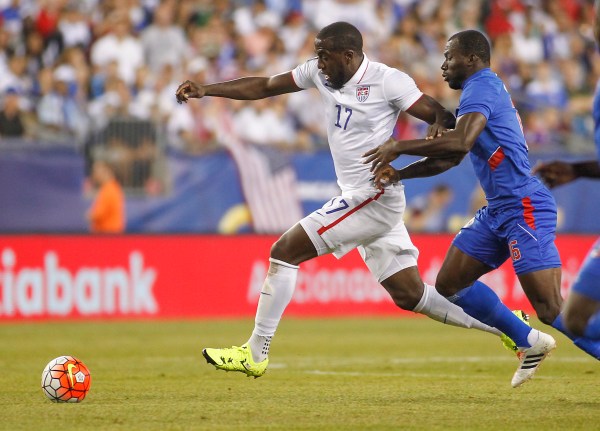 photo by Stew Milne/USA Today Sports
By FRANCO PANIZO
FOXBOROUGH, Mass. — If it looks like Jozy Altidore is not as sharp as he can be, it is because he isn't. Altidore is still working his way back from the hamstring injury he picked up in May, and needs more time to get back to his best.
That is the explanation U.S. Men's National Team head coach Jurgen Klinsmman gave on Friday night following the 1-0 win over Haiti.
Altidore slotted in at his usual starting spot up top for the Americans in the Group A match at Gillette Stadium, but did not play much of a role in securing the result. The 25-year-old forward struggled to not only receive the ball in dangerous positions in an overall lackluster first half for the U.S. attack, but also failed to look very dangerous the few times he was in possession.
The inability to make an impact resulted in Altidore being removed from the game at halftime, something both he and head coach Jurgen Klinsmann chalked up to the hamstring injury that Altidore is still recovering from.
"Just slow. I feel slow," said Altidore, who suffered a strain back in May while with Toronto FC. "I'm not feeling up to speed with everybody else. Everybody else is playing at a different speed than me. I'm just trying my best, and that's all I can do."
His best right now might not be as good as U.S. fans have grown accustomed to seeing, but it still should have resulted in an assist.
With the ball at his feet from the left side of the penalty area in the 34th minute, Altidore cleverly slipped in a pass from 18 yards out that forward partner Aron Johannsson fired home. But referee Ricardo Montero disallowed the goal, whistling for offside despite replays showing clearly that Johannsson was left in an onside position when Altidore made the play.
While the goal should have counted, it still was not enough to keep Altidore on the field. Klinsmann pulled his go-to striker at the break in favor of Gyasi Zardes, who immediately made an impact by setting up Clint Dempsey's winner in the 47th minute.
Zardes earned plenty of praise from Klinsmann after the match, but the U.S. manager also did not sound like he was ready to give up on Altidore.
"He's still in the process of getting his fitness and becoming 100 percent of Jozy Altidore," said Klinsmann. "Coming back from that hamstring, it's not happening overnight. He knows that, we know that. We work him hard in training and he gets his minutes in the games.
"We know he's going to come sooner or later into this tournament and will score some goals, but we also kind of be cautious with what we are doing with him and how we do it. It's not a problem at all."
Klinsmann may be planning to stick with Altidore in an effort to get the veteran forward back to top form, but some observers will likely ask whether the Gold Cup is the place to do that, especially since it has been repeatedly dubbed as important.
But an argument could be made for Klinsmann needing to support Altidore, who has frustratingly had similar hamstring issues in other international tournaments like the 2014 World Cup and 2011 Gold Cup.
Regardless, Altidore is not worrying too much about his place in the team. He wants to regain his sharpness as soon as possible, but wants the U.S. to do well first and foremost.
No matter if that is with him as a starter or reserve.
"To be honest, it's not about me," said Altidore. "I think tonight showed a guy like Gyasi can do just as good but if not better. I think that shows the depth we have in the team, and a lot of guys can step in. Aron was fantastic tonight. I was saying to him the other day, the way he plays the pockets, he's creative.
"We have a lot of options. There's no reason to be worried about it."