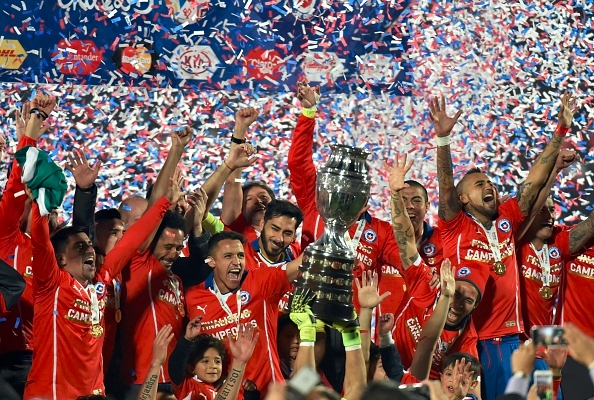 By AARON CRANFORD
For the first time in Copa America history, Chile is champion after defeating Argentina in penalties on home soil.
After an intense 120 minutes of play, which saw 49 fouls called and six yellow cards shown, Chile defeated Argentina, 4-1, in penalty kicks, with Lionel Messi being the only Argentine to score from the spot in Santiago, Chile. Alexis Sanchez would be the star to step up and score the winning tally, netting a Panenka penalty before pulling off his shirt to celebrate with his teammates.
From the opening whistle, both sides played a fast-paced, frenetic game, with Argentina and Chile coming close to netting the first of the final early on. Sergio Aguero forced Chile goalkeeper Claudio Bravo into a save on the line, while Arturo Vidal had a chance that was parried away by Sergio Romero.
For the second consecutive international tournament, though, Argentine playmaker Angel Di Maria would watch his side finish the tournament from the sideline due to the midfielder pulling up after a surging run in the 25th minute. After Ezequiel Lavezzi replaced the Manchester United FC midfielder, the speed of play slowed down a notch.
And with the final approaching halftime, Argentina had its best chance to open the score sheet, as Javier Pastore connected with Lavezzi, who blasted a chance on frame but right at Chile goalkeeper Claudio Bravo.
Chile controlled most of the second half, and its best chance to take the lead came in the 82nd minute when Alexis Sanchez attempted a volley after Charles Aranguiz lofted a pass over the Argentina backline, but the ball fizzed inches wide of the far-left post.
And with the final play of the 90 minutes, Messi found an open Lavezzi streaking down the left wing, who whipped in a low cross to the back post, but Gonzalo Higuain could not put the ball in the empty goal at a tight angle.
Sanchez had a one-on-one breakaway in the beginning of the 106th minute after Javier Mascherano missed the chance to stop the counter near midfield. However, the Arsenal attacker could not finish the chance, much to the delight of Mascherano.
The match headed to penalty kicks. Chile's first two kickers and Messi netted the first three attempts, but Higuain blasted his opportunity well over the crossbar, giving Chile the advantage. Chile netted again, and Bravo saved Ever Bonega's weak shot to set up a historic moment for all of Chile.
Sanchez calmly stepped up to the spot and chipped in his chance, sending everyone inside Estadio Nacional into a frenzy.