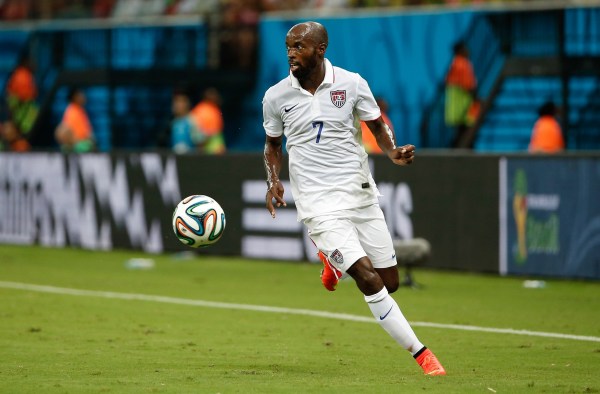 Photo by Winslow Townson/USA Today Sports
By RYAN TOLMICH
U.S. Men's National Team head coach Jurgen Klinsmann has taken advantage of the opportunity to shuffle his roster ahead of the upcoming Gold Cup knockout rounds.
DaMarcus Beasley, Alan Gordon and Joe Corona will join the USMNT ahead of Friday's quarterfinal matchup, replacing Jozy Altidore, Alfredo Morales and Greg Garza on the roster.
Beasley's addition comes after being a surprise inclusion on the initial 35-man preliminary roster, but Klinsmann called on Beasley to help provide some experience at the left back position, and Beasley always seemed a good bet to be brought in for the knockout rounds after being left out for the group stages.
"Having DaMarcus come into the team is huge, because of his character, his giving nature, the spirit he brings, but also the high quality he brings," Klinsmann said of Beasley's addition. "He brings a lot of experience into this group, and he's hungry. He's still as hungry as day one in his career. That speaks for us having him back in the group and now it gives us a couple of different options on how to put pieces together."
Gordon, who was called into the 2013 Gold Cup roster but did not feature, has one international cap to his name: a 2012 appearance in World Cup qualifying. The LA Galaxy forward has since emerged as a super-sub for the LA Galaxy, scoring four league goals this season while only making six starts out of his 20 appearances.
"That's why Alan Gordon was on the standby roster from the beginning and that's why we brought him in," Klinsmann added. "He's fully fit, he's so full of energy, he scores goals with the Galaxy, and he fits in right away. He's a pure giver to the group, and he might be a player that can make a difference at any second when you bring him in."
Like Gordon, Corona was also a member of the 2013 Gold Cup squad, a tournament that saw the 25-year-old score the only two goals of his international career. In total, Corona has made 15 appearances for the USMNT.
As for the departures, Altidore leaves the team having appeared in the USMNT's first two games despite being hampered by a knee injury. Garza and Morales, meanwhile, depart after making just one appearance apiece against Honduras and Panama, respectively.
Klinsmann went on to say that Garza is one for "the future", while admitting that the fullback needs growth to really impact the team the way Klinsmann needs in the knockout rounds. Morales' situation is one much like Garza, Klinsmann said, as certain aspects of Morales' game "just don't click yet, and it'll just take a little bit of time."
Altidore's departure, though, comes due to the forward's injury, as Klinsmann believes it was essential for Altidore to regain rhythm, something that cannot be done in the midst of a knockout stage.
"We believe that Jozy's just not there yet," Klinsmann said of the decision to drop Altidore. "Jozy never really got into this tournament and never really picked up the rhythm. He's just simply not in the shape right now to help us. For Jozy it's just simply going back to Toronto, picking up his rhythm, getting in shape, working on his fitness and then he will start scoring goals again."
The USMNT returns to action on Saturday for a quarterfinal matchup at Baltimore's M&T Bank Stadium.
What do you think of the additions? How will the trio impact the team going forward?
Share your thoughts below.