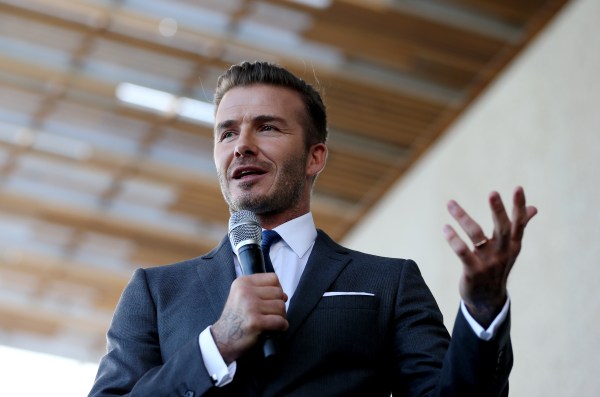 photo by Robert Mayer/USA Today Sports
By FRANCO PANIZO
So much for being spiritually tainted.
After being urged for months to consider building a soccer-specific stadium at a site near Marlins Park just west of downtown Miami, David Beckham and his group of investors have tentatively agreed to construct a stadium in that location.
Beckham's business partner Marcelo Claure and Miami mayor Tomas Regalado announced the news on Friday after holding a video meeting, and the next step is getting approval from city commissioners to begin negotiations to build the privately-financed stadium.
The University of Miami, which considered teaming up with Beckham's group for a joint-venue that could house its football team and the MLS franchise, has no involvement in the deal.
"The time is now," Claure told reporters. "This is the moment of truth."
Claure added on Friday that architects have already determined that highways and roads near the stadium locale do not have to be altered.
Beckham and his investors announced plans to bring an MLS franchise back to Miami in February 2014, but had their initial two locations on waterfront property rebuffed by local government officials. MLS said in the ensuing months that Beckham would not be awarded an expansion team until he reaches a stadium deal.
While Beckham's group preferred a location near downtown so as to have plenty of entertaining amenities to offer fans, it now believes that building a stadium next to the Miami Marlins' home could make for a booming entertainment district.
Friday's news comes as a change of heart for Beckham and his associates. They had initially ruled out constructing a stadium near Marlins Park because of the bad will that the local public has for Marlins Park, but a lack of progress in preferred destinations on waterfront property has forced the global icon and his group to reconsider.
"This is a milestone," Regalado told reporters.
—–
What do you think about Beckham's group tentatively agreeing to build a soccer-specific stadium near Marlins Park? Not celebrating until there is a shovel in the ground? Wishing the location was closer to downtown and on ocean-front property instead?
Share your thoughts below.