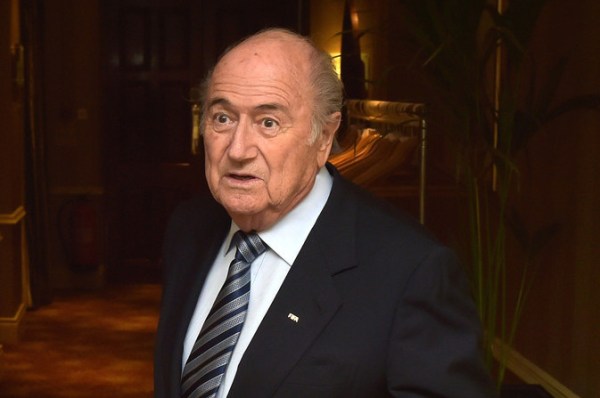 By RYAN TOLMICH
Sepp Blatter hopes to remind everyone that he is not to blame for the world's troubles.
The FIFA president hit out at his critics Thursday while stating his belief that he has been made a scapegoat for FIFA's recent controversies. Given that he has not yet been charged with a crime, Blatter says he cannot be to blame for all of FIFA's misdoings, insisting that it is impossible for him to monitor every person in the organization.
"I not only see everything, I'm responsible for everything, even for the English women's own goal at the World Cup recently," the 79-year-old said. "Am I responsible for climate change too?"
"It is impossible to stamp out robbery and murder, even with a functioning courts system down to community level. Soccer is not better than our society. But this envy has been festering for years. Envy is a predicate to jealousy. And jealousy is rooted in love. This can, however, turn to hate. And that's what happened when this tsunami hit us two days before the congress."
Here are some more news and notes to kick off your Friday morning:VELA TURNS DOWN INTEREST FROM WEST HAM
Carlos Vela had the opportunity to make his triumphant return to London, but the Mexico star has opted against it.
Vela is reportedly set to remain with Real Sociedad after turning down interest from West Ham. The Premier League club reportedly were prepared to meet Vela's buyout clause of £21.4 million ($33.2 million) before Vela made his intentions known that he would like to remain with his current club.
Prior to joining Real Sociedad, Vela spend seven years with London club Arsenal, playing sparingly while enduring five loans away from the club. Since joining the Spanish club, Vela has contributed 39 goals in 101 games played.
Vela is currently on international duty at the Gold Cup with Mexico, who throttled Cuba, 6-0, in Thursday night's Group C opener.
STERLING RETURNS TO TRAINING WITH LIVERPOOL AMID GERRARD CRITICISM
After missing two days of training with an illness, Raheem Sterling has returned to Liverpool while still pursuing his move elsewhere.
Sterling reportedly continues to push for a move away from the club, with Manchester City still considered the frontrunner to acquire the young English forward. Sterling reportedly told the club that he would prefer to remain in England rather than join the club on its preseason tour of Asia.
Sterling's latest actions prompted ex-Liverpool captain and current LA Galaxy midfielder Steven Gerrard to voice his opinion on the matter, telling the young forward to step up and handle his business.
"I'm not happy with all that carry on and I don't think there's any need for it," Gerrard said. "They all need to be men about the situation. Raheem needs to go in and speak to the owners and to Brendan himself, tell them what he wants and go about it that way. You don't have to throw illnesses in and refuse to go on tour.
"There are millions and millions of Liverpool fans around the world who are itching to see Raheem Sterling in a Liverpool kit. So I don't think it's fair on them if he is behaving like that."
QUICK KICKS
Robin van Persie will reportedly see his transfer to Fenerbahce finalized on Monday. (REPORT)
Jordan Henderson has been named Liverpool's latest captain following the departure of Steven Gerrard. (REPORT)
Marcelo has signed a new contract that will keep the fullback with Real Madrid until 2020. (REPORT)
Germany will face England for a friendly in Berlin on March 26, 2016 as preparation for Euro 2016. (REPORT)
Crystal Palace has signed Yohan Cabaye from Paris Saint-Germain for a club record fee. (REPORT)
—
What do you think of Blatter's comments? What do you expect from Vela this season? Where do you foresee Sterling ending up?
Share your thoughts below.