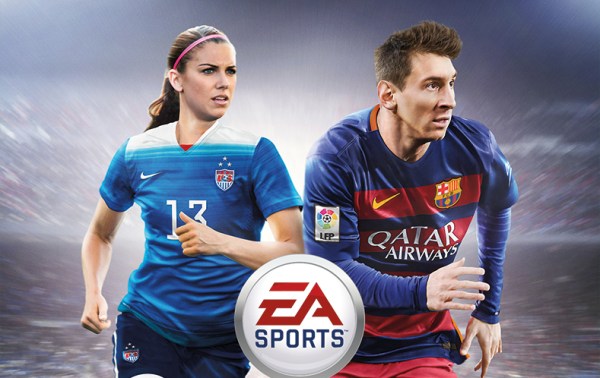 By AARON CRANFORD
For the first time in history, women will grace the cover of the FIFA video game.
In May, EA Sports announced that for the first time, gamers could play with 12 different women's national teams on FIFA 16, and Monday, the company continued to set new precedent, announcing that U.S. Women's National team forward Alex Morgan will share the cover of the U.S. edition with Lionel Messi.
"It is an incredible honor to be one of the first women featured on the cover of EA SPORTS FIFA," Morgan said in a statement. "I know people all over the world play this game and I'm really excited that FIFA 16 is putting such an important spotlight on women's soccer.  And now to share the cover with today's greatest player is surreal."
However, Morgan isn't the only female to feature on a FIFA 16 cover in North America, as Canadian captain and star Christine Sinclair will also share the spotlight with Messi in the Canadian edition.
"This year's World Cup showcased the unbelievable talent and skill in women's soccer," Sinclair said of the announcement. "I'm thrilled that EA SPORTS is celebrating female athletes in FIFA 16. To be featured in the game and to promote women's soccer with Alex is really special and another exciting step for women in sports."
The game is set to be released across North America on Sept. 22, 2015, but in the meantime, take a look at each full cover below:
What do you think about the FIFA 16 covers? Think another U.S or Canadian player should have been featured instead?
Share your thoughts below.