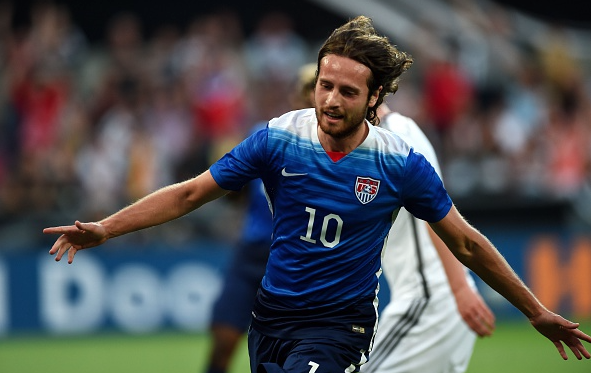 Photo by Kirby Lee/USA Today Sports
By RYAN TOLMICH
FOXBORO, Mass. — Looking back on his play from just a few years ago, Mix Diskerud is pleased with how he has developed his game enough to be a U.S. Men's National Team regular. However, the 24-year-old midfielder fully understands that he still has a long way to go.
Despite not featuring in the USMNT's Gold Cup opener, Diskerud could see the field Friday in the team's second group stage match against Haiti. If Diskerud does see his name on the lineup sheet, the midfielder insists that the player that takes the field Friday will be one much different than the one that was a part of the 2013 Gold Cup-winning team.
"If you look at some games a few years ago, you're going to see a huge difference I would say," Diskerud said. "It's a lot more sliding tackles and trying to run to recover some balls. I've been trying to focus more on that. Of course it's something I still can develop on, but it's a huge difference from before. I'm still a bit skinny, but I was a lot thinner then.
"If I get the chance tomorrow, it's about doing the best I can do, offensively and defensively. Connect passes, help my teammates win balls and try to lead as well."
Here are some more USMNT news and notes ahead of Friday's matchup with Haiti:
YEDLIN LOOKING TO BUILD CONFIDENCE AHEAD OF UNCERTAIN CLUB FUTURE
DeAndre Yedlin may not know exactly where he will be plying his trade on the club level this coming season, but he will enter whatever situation he is in full of confidence.
Having joined Tottenham in January, it remains likely that the USMNT speedster could start the season on loan in an effort to acclimate to the rigors of the English game. In addition, Yedlin continues to develop himself in a new position as the U.S. continues to take full advantage of his speed in a more forward position
With that being said, the 22-year-old says this current spell with the national team has proven to be invaluable ahead of what will be an important club season, one that will surely test Yedlin's belief and resolve.
"I'm pretty comfortable," Yedlin said. "There's a lot I need to work on in that position, and I know that, but for the most part, I'm pretty comfortable.
"It's huge," the winger added. "It's big for my confidence and it will be great to get in a flow before heading back to Tottenham or wherever I may be headed."
USMNT HOPING TO WIN, BUT NOT CONSUMED BY, BATTLE FOR POSSESSION
Since assuming the role as USMNT head coach during the last World Cup cycle, USMNT head coach Jurgen Klinsmann has preached the importance of maintaining possession of the ball.
However in Tuesday's Gold Cup opener against Honduras, the U.S. didn't quite dominate as much as originally expected, struggling to move the ball at times against a Honduras defense that made sure to harass throughout the full 90 minutes.
"We want to be on the ball the most," Diskerud said. "It's not always going to be easy, but in a lot of these games, that's what we're hoping for. Tomorrow, we want to create chances and have possession, we want to be that team.
"Honduras is a good team. We all knew that," Diskerud added. "They almost should have gone forward at the World Cup when we were there, so it was a tough opponent and we came out with a win. That's the most important thing."
Yedlin was quick to echo Diskerud's point regarding the victory. Despite not displaying nearly as much possession or flair as originally hoped, Yedlin was pleased with his team's ability to score because it's goals, not possession percentages, that earn points.
"You can have the ball one percent of the game," Yedlin said, "but as long as you win, it doesn't matter."