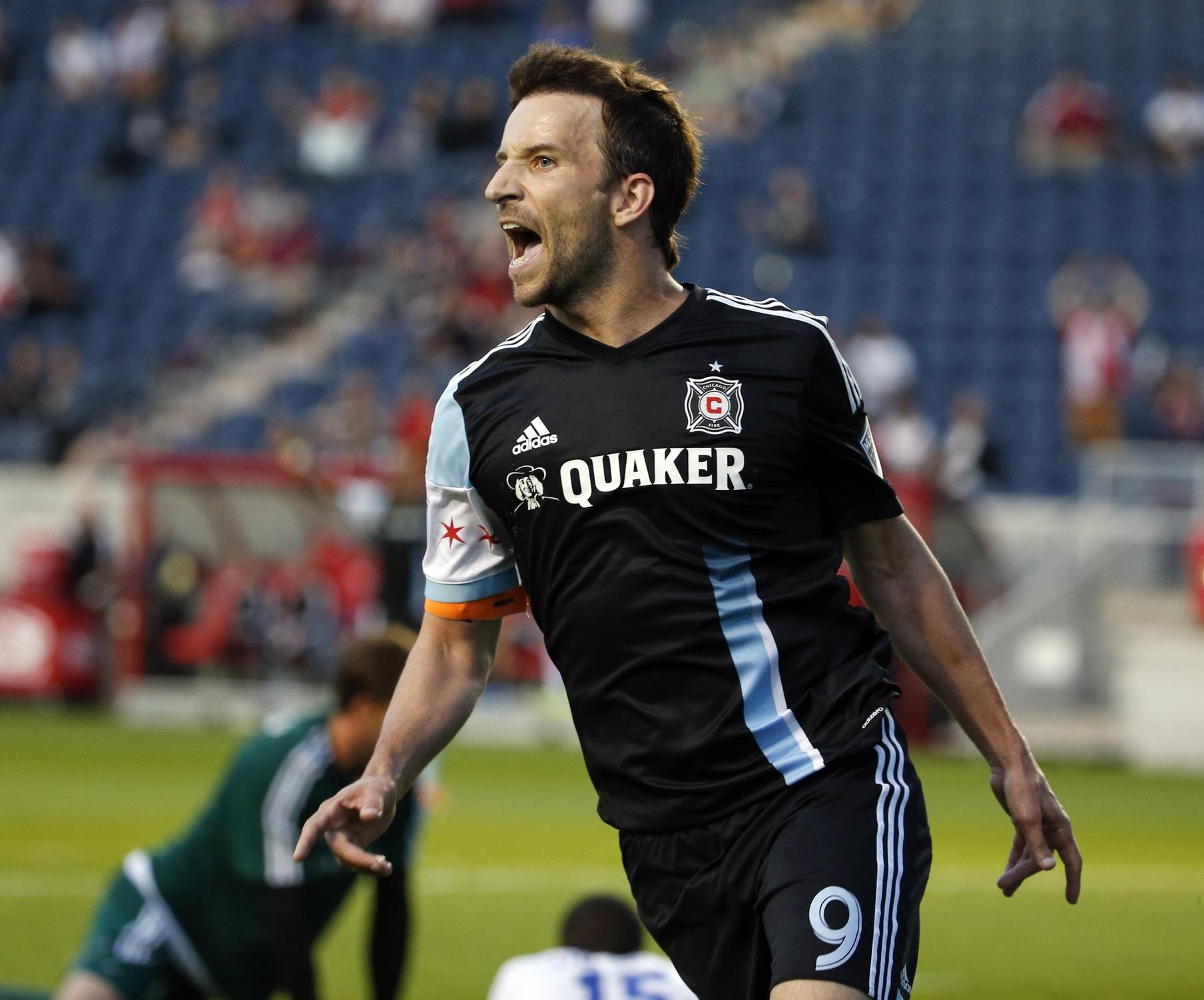 Photo by Kamil Krzaczynski/USA Today Sports
By DAN KARELL
After nearly nine months without two of their key starters, the Chicago Fire welcomed back Mike Magee and Patrick Nyarko to the starting lineup last Saturday.
It may have been a coincidence that the Fire beat the Sounders, 1-0, since both Magee and Nyarko had been substituted off the field by the time the game-winning-goal was scored, but just their appearance on the field was another hurdle passed for the pair of players and head coach Frank Yallop.
For Magee, it was his first start for the Fire since Aug. 16, 2014, in a 1-0 defeat to the Montreal Impact. He didn't score, but the 70 minutes played were the most since undergoing major surgery last year.
"I think when you've been out, and I've never been out that long, that's a long time for any soccer player to be out," Yallop said during the Fire's weekly conference call. "When you're out for just three weeks, it feels like six months. For them to be out that long, and for them to come back now…it's good."
Magee, who won the MLS MVP award in 2013 after scoring 21 goals between the Fire and the LA Galaxy, struggled to recapture that award-winning form last season due to a mix of injuries, scoring a respectable seven goals and four assists before he was shut down in August.
On Sept. 8, Magee underwent surgery in Vail, Colorado to repair the labrum in his right hip as well as repairing articular surface damage on the hip, with a recovery timetable of six-to-eight months. He also reportedly underwent a procedure to repair the meniscus in his right knee and clean up some scar tissue.
By May of 2015, Magee was nearing full recovery and at the end of the month, he was sent on loan to Fire affiliate club Saint Louis FC for one match. Magee started and went 60 minutes in a 1-1 draw with Louisville City.
On July 1, the 30-year-old Magee finally returned to the starting lineup, starting for the Fire in a 3-1 U.S. Open Cup victory over the Charlotte Independence. He scored twice, once in each half in a 90-minute performance.
A week later, Magee then came back and made his full return for the Fire, coming off the bench to play the final seven minutes in a 3-2 defeat to Orlando City, but a reported hamstring tweak forced the Fire to shut Magee down for another week.
"If you ask both (Nyarko and Magee), both want to play 90 minutes every game right now," Yallop said. "But realistically, we've got to make sure we don't send these guys back to the treatment table."
Magee then played 31 minutes off the bench in a 1-1 draw with the Houston Dynamo on July 4, before making his return to the starting lineup last Saturday.
In addition to remaining cautious about limiting their minutes over the last month and looking forward, Yallop knows that Nyarko and Magee are still far from being back to full fitness.
"They're not at their best. We still know that," Yallop said. "The best is yet to come from both those guys. Each game they're going to get more confident, be more forceful and active. Both are quality players that we've missed, and its great to have them back available."
Yallop said that both Nyarko and Magee would be available for selection against the Columbus Crew on Wednesday, but said it was still up in the air over when they would hit their peak again.
"Basically between them they've played five or six games in nine months. Each minute that goes by, they get more confident and mobile. Let's hope that in three, four, or five games time, they'll both be flying, which would be great."