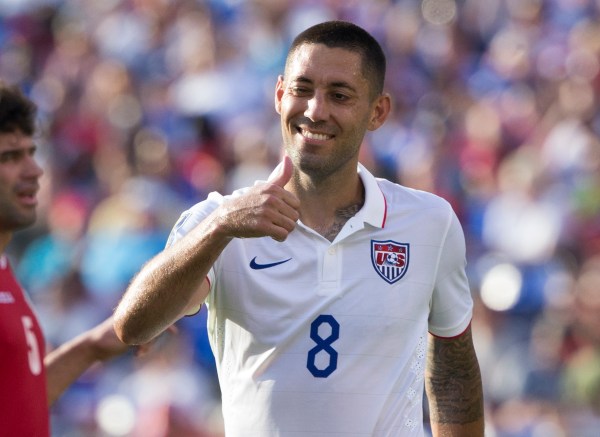 By FRANCO PANIZO
BALTIMORE — Clint Dempsey has scored a lot of goals for the U.S. Men's National Team, but it still came as a surprise to several members of the squad that he had never scored a hat-trick prior to Saturday.
Even the well-informed Jurgen Klinsmann was a bit astonished to learn that.
The U.S. kept rolling along in its Gold Cup title defense by thumping Cuba, 6-0, on Saturday evening, and it was Dempsey who led the way in the quarterfinals bout with his first international hat-trick. The 32-year-old forward set the tone for the lopsided win at M&T Bank Stadium by scoring four minutes in, while adding a pair in the second half that included a skillful sliding finish for his third tally of the day.
While some of Dempsey's teammates were stunned to learn that the game gave the veteran his first the three-goal performance for the U.S., no one was stunned to see him score with such regularity. Not even the overwhelmed Cubans, who had pinpointed him as a danger man coming into the match.
Ever since returning this month from a three-game suspension for ripping up a referee's notebook in a Seattle Sounders' U.S. Open Cup game, all Dempsey has done is score goals. He has been red-hot playing in a more advanced role at this Gold Cup, scoring a tournament-best six times in four matches to lead a previously-sputtering American attack and move within 10 goals of Landon Donovan's all-time U.S. record of 57.
"He's hungry, he's hungry for goals, and that helps us," said Klinsmann about Dempsey. "He has two more meals, and this is what a striker is nonstop kind of keeping in his mind. That's what drives you every day, the next opportunity, the next game, (thinking), 'I want to score.'"
It is not just the goals that has impressed Klinsmann, though they have played an integral part in the Americans' run to the semifinals. Klinsmann has also seen Dempsey demonstrate plenty of energy and willingness to come back and help out. The star attacker is "not switching off at all", and the U.S. is reaping the benefits of having him play closer to goal.
What also seems to be helping Dempsey play this well is that he is no longer serving as the U.S. captain. Stripped of the armband before the Gold Cup because of the U.S. Open Cup fiasco, Dempsey no longer has to worry about leading his teammates and can now focus more on himself.
Dempsey told ESPN FC earlier this week that he always had a tough time being captain because it made him feel like he had to be someone he wasn't. With that burden no longer on his shoulders, Dempsey has rattled off seven goals in five games (including a friendly vs. Guatemala before the Gold Cup), and is showing no signs of slowing down.
"Right now he seems happy, he seems balanced, he seems to be alright with himself as well," said Klinsmann. "He's in a good physical shape, which is very important, so he has the feeling that I can always get ahead of my opponent. Now we make sure that he really enjoys it even more the next two games, because those are the big ones now. These are the ones you want him really to score (in)."
Dempsey may be devoid of the responsibility of having to wear the armband, but he is still leading by example on the field with performances like the one he turned in on Saturday. He has looked engaged with and without the ball and has been lethal in front of goal.
Cuba was reminded of that four minutes after the opening whistle, as Dempsey peeled away from his sleepwalking defender and headed home a header. Dempsey then converted a penalty kick in 64th minute in his trademark nonchalant fashion before capping his special day 14 minutes later with a finish with the outside of his right foot as he fell to the ground.
It was a showing the youngsters can take notes from.
"Even though he's 32 or 33, he's getting into opportunities and he's finding the right spots to be in the box," said forward partner Aron Johannsson, who also scored vs. Cuba. "I think I have to look at the games and look more at what he's doing and learn from it."
Added a fellow goal-scorer in Gyasi Zardes: "Clint Dempsey's hat-trick was just amazing. He's a phenomenal striker, and I'm surprised that's his first hat-trick. He's scored numerous goals."
Dempsey's next challenge will come Wednesday against either Jamaica or Haiti, and a place in the Gold Cup final will be at stake. Moving himself closer to history with another goal-scoring performance in that match would be neat, but Dempsey is more concerned with moving the U.S. one step closer to its goal of hoisting the Gold Cup trophy.
"You always want to score as many goals as possible, but the most important thing is that the team does well," said Dempsey. "We want to try to win this tournament so we can be in the Confederations Cup, and we've got two difficult games ahead. The semifinals are going to be difficult against Jamaica or Haiti, so we've got to make sure we look at the tape and work on things, but we're moving in the right direction."