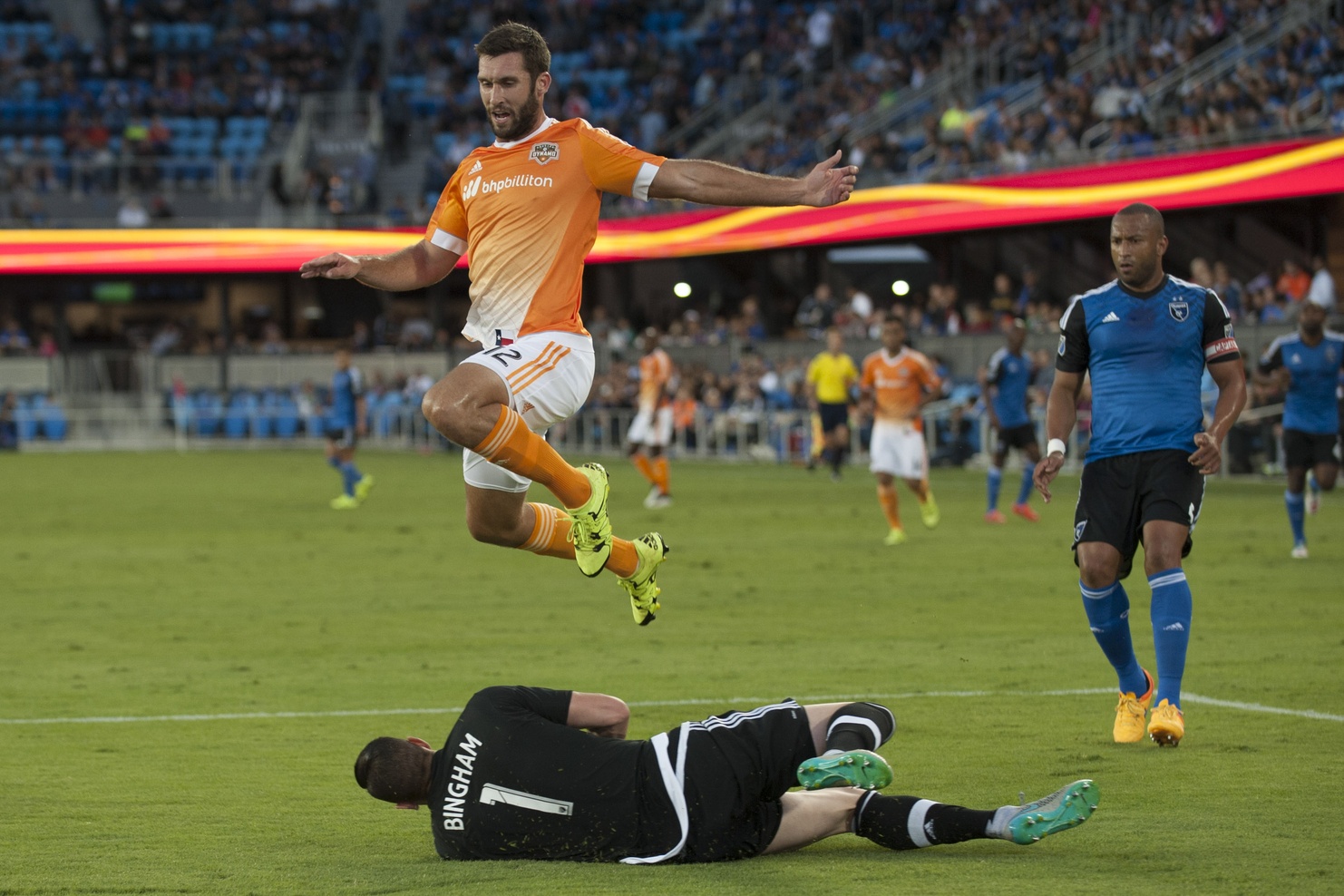 Photo by Ed Szczepanski / USA Today Sports Images
By ADAM TROXTELL
For the first time in four outings, the Houston Dynamo tasted victory.
An efficient performance from the Dynamo gave them a 2-0 win against the San Jose Earthquakes in Friday's late kickoff at the Avaya Stadium. Ricardo Clark highlighted a strong first half display for the visitors with a goal in the 10th minute, before Will Bruin applied the dagger with nine minutes to go in the second half.
The Dynamo weathered the increasing pressure from the Earthquakes in the second half, with goalkeeper Tyler Deric pulling off three saves. Four more shots were blocked on the way to goal as the home team was stymied.
In contrast, the Dynamo put eight of 13 shots on target, giving David Bingham plenty to do in the Earthquakes goal. It was a determined effort against former head coach Dominic Kinnear, who is looking for some extra inspiration in his attack.
Minus leading goal scorer Chris Wondolowski, who is with the U.S. Men's National Team on Gold Cup duty, the Earthquakes struggled to make second half possession count. The loss is their third straight in all competitions.
The Dynamo came out strong, controlling the ball for most of the opening 45 minutes. Their reward was immediate, with Clark getting his head to an in-swinging cross from left winger Alexander Lopez for the opening goal just 10 minutes into the game.
Twice the Earthquakes offered a response, but they were denied. First, Deric pushed a looping volley from Fatai Alashe up and over the bar in the 21st minute.
Ten minutes later, Victor Bernardez had a free kick rolled into his path and smashed his shot off the underside of the cross bar.
With the Earthquakes applying more and more pressure as the second half progressed, Houston took to hitting them on the counter. A poor back pass in the 81st minute from Sanna Nyassi sealed the Earthquakes' fate when substitute Leonel Miranda picked it up, slid a pass by Bingham and to Bruin who finished in an open net.
The Dynamo stay on the road a week from now to take on Real Salt Lake in a battle near the bottom of the West. For the third time in five games, the Earthquakes next face rivals LA Galaxy on Friday.