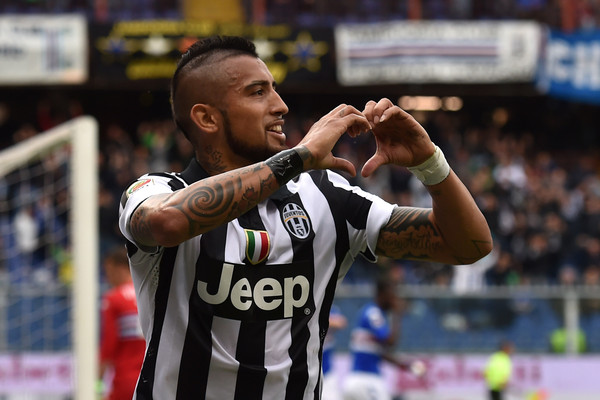 BY COLE KELLOGG
A whirlwind of a summer is not yet over for Chilean midfielder Arturo Vidal.
The midfield maestro led Juventus to the UEFA Champions League final before winning Copa America with his national side, and now the player is reportedly on the move.
The Juventus midfielder is close to a move to Bayern Munich. Bayern's chairman Karl-Heinz Rummenigge has gone on record saying that his club is extremely interested in the midfielder. Munich have been in negotiations with Juventus for over 24 hours in an attempt to bring the Chilean to Pep Guardiola's side.
The team has tried once before to sign the player, four years ago when he left Bayer Leverkusen.
A previous report stated a transfer fee of around €40 million could pave the way for the midfielder to sign on a four-year contract.
Vidal found himself in hot water with the media and fans in June after a drunk driving incident, but the Chilean was allowed to play in all of Copa America regardless. His side won the CONMEBOL championship over Argentina in a penalty shootout.
Here's are some more of Friday evening's news and notes:
DELPH JOINS MANCHESTER CITY
Manchester City needed to add reinforcements in order to compete with the likes of Chelsea and others in the English Premier League next season. The team is wasting no time adding an influx of talent, and English talent at that.
The Manchurian club has officially obtained the services of Fabian Delph on Friday.
The Aston Villa captain earned himself a five-year contract with the English powerhouse. City met the release clause in the midfielder's Villa contract, and will pay an £8 million transfer fee for the player.
This news comes just a week after Delph made a statement that he would be staying with Aston Villa for the upcoming season.
Aston Villa made an outstanding run to the FA Cup final last season under the leadership of Delph, but came up short with a 4-0 loss to Arsenal in the final. The midfielder will join England teammate Joe Hart, who reportedly influenced his decision along with Micah Richards.
Delph will take the number 18 shirt that Frank Lampard wore last season with the club.
REAL MADRID CAPTURE CASILLA
Real Madrid is not leaving its goalkeeping position up to chance for the upcoming season.
Just days after Iker Casillas left the football club, it has emerged that Real Madrid have signed goalkeeper Kiko Casilla from Espanyol.
Casilla left Madrid in 2007 to join Espanyol, but has earned himself a return to the Spanish capital after impressing in La Liga.
Real, who retained 50% ownership of the player, had to pay £4.2 million to regain the services of the goalkeeper. Casilla has reportedly signed for five years.
DE GEA SAGA CONTINUES
The David De Gea news just will not stop, as a new report claims that the Spanish goalkeeper will not be traveling to Spain this summer unless Sergio Ramos goes the other way.
De Gea has only one year left on his contract with Manchester United, and is likely to end up in Madrid by the end of next summer regardless. The English side seems extremely willing to let its star goalkeeper go on a free transfer when his contract runs up.
New Real Madrid head coach Rafa Benitez has gone on record saying that he has no intention of letting Ramos leave the club. With Louis Van Gaal in no rush to sell his star goalkeeper without receiving something in return, the clubs seem to be stuck in a transfer deadlock.
ATLETICO WANT LUIS BACK
Atletico Madrid have already strengthened its squad with the likes of Jackson Martinez, Yannick Ferreira-Carrasco, and Luciano Vietto, yet the 2014 La Liga champions show no signs of slowing down in the transfer market.
Atletico is interested in re-capturing the services of leftback Filipe Luis, after the Brazilian failed to seal a starting spot in Chelsea last season.
Atletico president Enrique Cerezo has stated that his side are currently in talks with the English champions, but that the feasibility of the move is currently up in the air.
—
What do you expect from Vidal this season? How will Delph fare with Manchester City? How will Casilla perform with Real Madrid?
Share your thoughts below.