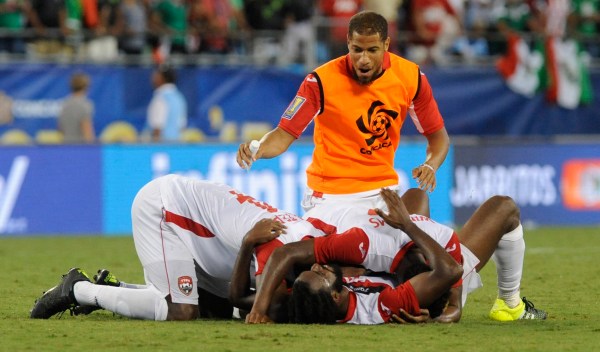 photo by Sam Sharpe/USA Today Sports
By FRANCO PANIZO
From first place and ecstasy to second and despair. All in the matter of seconds.
Mexico saw Trinidad and Tobago claim the top spot in the CONCACAF Gold Cup's Group C on Wednesday night deep into stoppage time, as Yohance Marshall headed home a late corner kick in a thrilling 4-4 draw.
Marshall's goal capped a wild affair at Bank of America Stadium in Charlotte, North Carolina. Trinidad and Tobago came back from a 2-0 deficit and took the lead by scoring three goals in 12 minutes in the second half before Mexico mounted a furious rally of its own.
With the score 3-2, Mexico found an emphatic equalizer through Andres Guardado in the 88th minute. El Tri then appeared set to steal the three points and first place in the group two minutes later when Kenwyne Jones scored a gut-wrenching own goal.
Fortunately for the Soca Warriors, there was one more chance. While being pelted with debris in the 93rd minute, Chicago Fire midfielder Joevin Jones whipped in a corner kick from the left that Marshall rose up and thundered home to end the roller coaster of a match in a stalemate.
Trinidad and Tobago, on seven points, took first place in Group C with the tie. The Mexicans disappointingly finished second with five points from a 1-0-2 record.
Paul Aguilar and Carlos Vela scored the game's first two goals, but the Trinidadians received two strikes from Keron Cummings and one from Jones before the late-game madness.
It was not as exciting, but the day's earlier match at Bank of America Stadium also had some drama. Cuba upset Guatemala, 1-0, via a goal from Maikel Reyes in the 73rd minute.
The tally was the Cubans' first of the tournament, and was enough to see them advance to the quarterfinals as one of the two best third-placed teams in the tournament. Cuba, which has conceded eight times so far, finished with three points while Guatemala had just one.
The result eliminated Group B's third-placed nation, El Salvador, and helped wrap up the schedule for the quarterfinals of the tournament.
Here are the match-ups for the next round:
Saturday (5 pm) – United States vs. Cuba
Saturday (8 pm) – Haiti vs. Jamaica
Sunday (4:30 pm) – Trinidad and Tobago vs. Panama
Sunday (7:30 pm) – Mexico vs. Costa Rica
—–
What do you think about Mexico's wild draw with T&T? Was it the best game of this Gold Cup so far? How surprised are you by Cuba's advancement? Which nations do you see moving on from the quarterfinals?
Share your thoughts below.