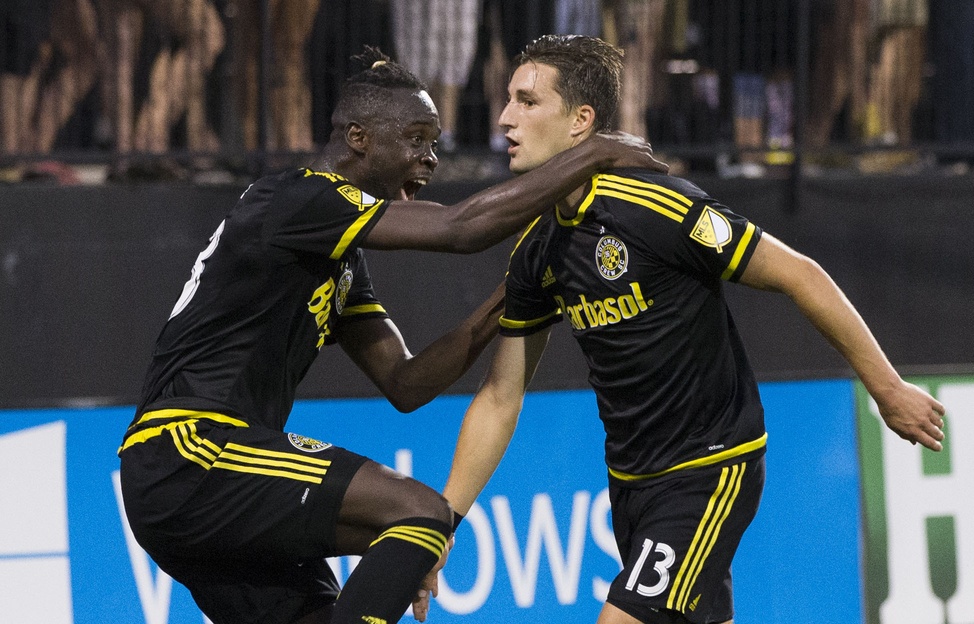 By COLE KELLOGG
The league leaders in assists and goals struck yet again on Saturday, as Kei Kamara and Ethan Finlay fueled the Columbus Crew past the New York Red Bulls, 2-1, at MAPFRE Stadium.
Finlay scored a pair of goals, both assisted by Kamara, to help the Crew push their unbeaten run to four matches.
Anatole Abang scored the early goal for the New York side in the eighth minute, firing past Steve Clark from a difficult angle on the right side of the box. Bradley Wright-Phillips played Abang through after a quick one-two combination, and the speedy forward came through with the finish.
But Columbus was not about to lay down at home. The Crew got on the board 25 minutes later through a brilliant Finlay strike. Clark played a long ball from his box to Kamara, who flicked a header for Finlay to run onto near the top of the box. Finlay cut inside to lose Damien Perrinelle, and then struck a curled shot to the far post, past Luis Robles.
The home crowd had to wait until the final 19 minutes of play for the winner, when Finlay tapped home his and the Crew's second on the night. Federico Higuain played in a chipped ball from around 25 yards out to find the head of Kamara in the box. Kamara put a perfectly timed header right in front of Robles for Finlay to tap in.
Finlay and Kamara have now combined for 17 goals and 15 assists on the season.
Wil Trapp made his first MLS appearance for the Crew since April 8 when he came on for Higuain in the 88th minute.  Trapp has been struggling with concussion symptoms over the past few months, but will be a key figure for the Crew as they look to climb up the Eastern Conference standings.
The Crew leapfrogged the Red Bulls with this win. Columbus now has 24 points in 18 matches as opposed to New York's 23 points from 17 matches.
The Crew will travel to Stade Saputo on June 11 to face the Montreal Impact, while the Red Bulls will host the New England Revolution on the same evening.