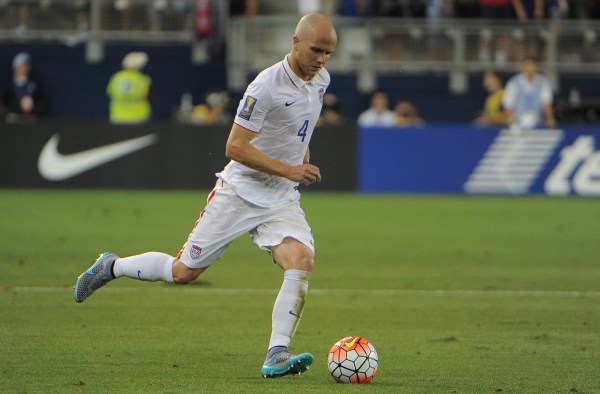 photo by John Rieger/USA Today Sports
By FRANCO PANIZO
BALTIMORE. — As the U.S. Men's National Team was peppered with questions about its opening knockout-round match, one overarching theme stemmed from the responses.
This game, more so than the ones before it, will be all about the Americans and whether or not they can take care of business against a heavy underdog.
The elimination games of the 2015 CONCACAF Gold Cup begin on Saturday, and the U.S. has the distinction of going first by taking on lowly Cuba at M&T Bank Stadium (5 pm ET, Fox). It's a match-up of David vs. Goliath, with the Americans serving as the behemoth and the Cubans as the overwhelmed opponent but without its key stones and sling.
Cuba surprisingly made it out of group play with a 1-2 record and minus-seven goal differential. Worse yet, the Cubans advanced as the second-best third-placed finisher despite scoring just once in three matches. There was not even an own goal in their favor.
The U.S. had its own set of troubles in Group A, struggling to put forth a complete performance but doing just enough to stay unbeaten at 2-0-1. The Americans have acknowledged the room for improvement after each game, but are still not short on confidence as they enter the Gold Cup's do-or-die matches.
"I think we are definitely the team to beat in this tournament," said U.S. head coach Jurgen Klinsmann. "It was not perfect the way it went through the group stage, but still it was impresive how the players handled everything and how we did the job to win two games and be already in the quarterfinals. Seeing all the other results in all the other games, the up and downs the other teams have, I think we're very consistent in what we're doing.
"Nothing is perfect but we're very consistent, very focused, and that's what we're going to do (Saturday) night in order to get to advance."
Truth be told, the U.S. could once again be far from perfect vs. Cuba and still advance. Not only do the Americans hold a superior advantage with regards to talent, but the Caribbean nation is also without a full roster – 19 players will be available – due to the a number of defections.
Conversely, Klinsmann made three changes to his 23-man squad. DaMarcus Beasley, Joe Corona, and Alan Gordon were brought in as respective replacements for Greg Garza, Alfredo Morales, and the out-of-form Jozy Altidore, opening the door for some lineup tweaking as the U.S. attempts to kick things to another level.
"You hear us talk a lot about this idea that who we are and what we're about doesn't change on a given day or in a given tournament based on who is here and who is not here," said U.S. captain Michael Bradley. "We want to have a mentality and a commitment about us that makes us who we are, regardless of, on a given day, who is around or not."
If the Americans seem to be focusing more on themselves going into this match with Cuba than in the three previous group games, it is because they are. The U.S. knows that barring an upset of epic proportions, it should advance to the semifinals to take on the winner of Saturday's other quarterfinals match between Jamaica and Haiti.
The U.S. is, of course, not trying to overlook its opponent, especially after seeing Cuba make it out of Group C with a stirring 1-0 upset win over Guatemala on Wednesday.
"A lot of what they went through is very emotional, and when you go through those emotional roller-coasters you never know what the ending will be," said Klinsmann. "That's what our message is to our players, to Michael and the whole group, is to be really spot-on from the first second on and hopefully create chances and get an early goal, because that will make things a lot easier."
Klinsmann also noted the last meeting between the two nations back in the 2013 Gold Cup, a meeting the Americans won, 4-1, but only after initially falling behind and leave it until late in the first half to pull level.
Much has changed in terms of the U.S. personnel since then, however, and the lineup that the Americans trot out on Saturday is sure to be different than what we have seen so far in the Gold Cup.
For starters, centerback John Brooks has to be replaced due to yellow card accumulation. Then there is the matter of replacing Altidore up top, with Klinsmann having Gordon, Gyasi Zardes, Aron Johannsson, and Chris Wondolowski as the players to choose from.
It is also likely that Klinsmann alters who mans the fullback spots. Timmy Chandler's continued struggles at right back were evident during the group stage, and Fabian Johnson could be asked to move over from the opposite flank to help solidify that side of the field.
That would leave the left back spot vacant, but the seasoned Beasley is a natural fit there. In fact, it is unlikely that Beasley would have come out of international retirement just to watch from the sidelines.
"Obviously, the other ones are not stupid," said Klinsmann. "They know, 'Okay, if Beas is coming back, he's not coming back to be on the bench. If Beas is coming back he wants to play.'"
The U.S. may not have needed to strengthen its squad ahead of this clash with Cuba, but is not taking any chances. The Americans have long stressed the importance of winning the Gold Cup, and believe they are the favorites to accomplish that so long as they begin playing to their potential as of Saturday.
"For us, the most important thing is staying focused on our end," said Klinsmann. "That we are approaching it with the right attitude, with the right focus from the first second on, and take the game to them right away, and create chances and get those goals that we want to have badly in order to move on."