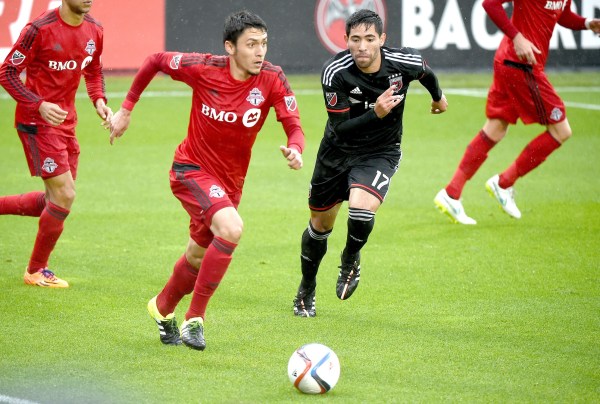 Photo by Dan Hamilton/USA Today Sports
By RYAN TOLMICH
The recently-concluded Under-20 World Cup wasn't always easy for Marky Delgado. A participant in all five games for the U.S. Under-20 Men's National Team, the midfielder ran into his share of difficulties during his time in New Zealand, but those difficulties are ones he believe will make all the difference going forward.
Now earning time on the club level with Toronto FC, Delgado scored his first goal of the season on Sunday netting the final TFC goal in a wild 4-4 draw with NYCFC. Having now started four consecutive league games, Delgado is starting to make his way into the conversation in a crowded TFC midfield while offering a glimpse into his potential.
That potential wasn't always on display during the 20-year-old Delgado's time in New Zealand, though. Thrust into a more defensive role in a crowded U.S. midfield, Delgado didn't always have an impact, and when he did, it wasn't always positive.
Delgado was disappointed with his play on the ball and with distribution, but understands that his performances at the World Cup will not be career-defining. Rather, they will be just another lesson on the road towards becoming a more complete professional player.
"In the World Cup, there were a few games where I struggled, and I came out of the World Cup, coming here, looking to improve myself with that," Delgado told SBI. "It's been improving, from a personal standpoint, and it's been showing, and I've gotten rewarded for it."
Delgado received his biggest reward to date on Sunday by scoring his first goal of the season and first since joining TFC in last year's Dispersal Draft.
Taking full advantage of room created by hat-trick scorer Sebastian Giovinco, Delgado juked his defender before making a darting run towards the near post, anticipating a Giovinco pass. That pass came, allowing Delgado to hit a first-time finish.
For TFC head coach Greg Vanney, Delgado's goal-scoring sequence exemplifies exactly what he sees in the midfielder. In particular, Vanney remains impressed with Delgado's ability to impact a game with his effort, pointing to the finish as just one example of Delgado's engine.
An assistant with Chivas USA during Delgado's academy years of 2011-12, Vanney believes the youngster's improved athleticism is underrated. Still, Vanney thinks it is Delgado's ability to work for the team that will take the midfiedler further in his career.
"I've always liked Marky," Vanney said. "I had him in the academy at Chivas and when we brought him in here, we liked him. We were surprised that we got him. Ever since he's come back from the Under-20 World Cup, he's been very sharp.
"The goal he scored off Sebastian's run, there aren't many guys who cover the ground that he covered to get themselves in front of the goal that late in the game. That was impressive, so Marky just needs to keep doing what he's doing and keep being who he is and he's got a bright future ahead of him."
For Delgado, the path is laid out right in front of him and he plans to take full advantage of playing with some of the league's biggest stars.
Playing with attackers like Giovinco and the returning Jozy Altidore in the next couple of weeks should open up plenty of space for Delgado to exploit while also giving him prime targets to improve his passing.
However, Delgado hopes to emulate midfielder Michael Bradley in the coming years. Bradley is currently away with the U.S. Men's National Team at the Gold Cup, giving Delgado his chance to shine in TFC's current set-up.
But when Bradley returns, Delgado is looking forward to again pick the USMNT star's brain in an effort to continue the improvements that started with this summer's World Cup.
"Michael's not here, and when he's here, he gives us the extra boost and extra work rate that pushes everybody else to follow him," Delgado said. "I see how he plays and I want to be a player like him one day and I try to do what he does on the field. Hopefully, it comes off and I can be at his level one day.
"Just listening to the tips they give me. They tell me that I'm already a good player and that I have the vision and ability to become a world-class player. I just listen to the little tips they give me to improve myself and just go forward from there."