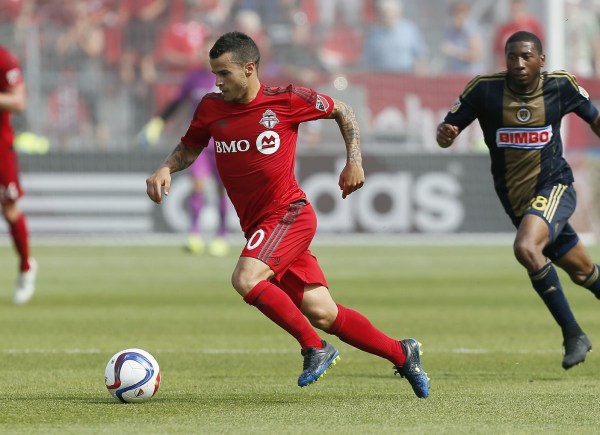 Photo by John E. Sokolowski/USA Today Sports
By RYAN TOLMICH
For the second time in as many weeks, Sebastian Giovinco made all the difference for a dynamic Toronto FC.
Led by a goal and an assist from its Italian star, TFC cruised to a 2-1 victory over the visiting Philadelphia Union Saturday afternoon at BMO Field.
Much like last weekend against New York City FC, TFC took the opportunity to score in quick succession, as Delgado and Giovinco provided finishes within a three-minute span.
After scoring the closing goal in last week's clash, Delgado provided the opener in Saturday's action, linking up with Giovinco, yet again, in the 29th minute.
Receiving a pass from Jonathan Osorio, Giovinco played the ball to Delgado right into the center of the box, allowing the U.S. Under-20 Men's National Team midfielder to lace a shot on his second touch. Ripped into the upper corner, Delgado's shot whizzed right past goalkeeper Brian Sylvestre, giving TFC the 1-0 lead on Delgado's second goal in as many weeks.
Just three minutes later, Giovinco found the back of the net himself, following up last week's hat-trick with another finish.
Giovinco's finish was a result of his own efforts, as the Italian star unleashed a shot from the top of the box that was parried by Sulvestre. Following the shot, Giovinco ran in before slamming home the rebound for his 12th goal of the season and fourth in two weeks.
With a chance for his second of the night just moments later, Giovinco was sprung in by Jozy Altidore, who played 85 minutes in his return after departing the U.S. Men's National Team following the Gold Cup group stages. However, the Italian's shot skidded just wide of the post, sparing the Union from a third.
Relaxed with a two goal lead, TFC appeared to concede on a finish by Eric Ayuk in the 59th minute, but the goal was ruled offside. The Union did get their goal late, though, as substitute Conor Casey provided a consolation finish in a game that saw TFC prove the dominant side.
Toronto FC will look to make it back-to-back victories next Saturday with a visit to the Columbus Crew, while the Union will search for a bounce-back result against D.C. United one day later.