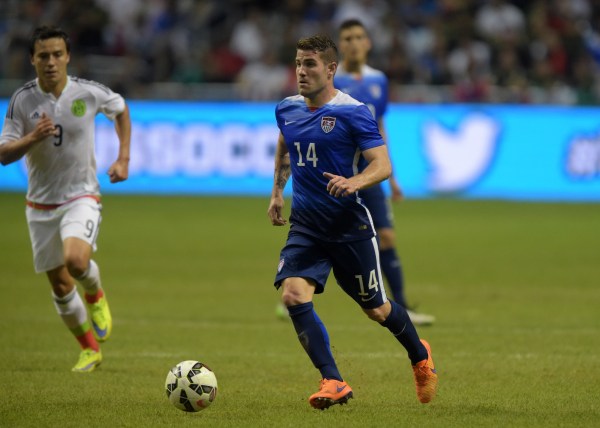 Photo by Kirby Lee/ USA Today Sports
By RYAN TOLMICH
For Omar Gonzalez and Greg Garza, Tuesday night's Gold Cup opener represents so much more than just another game; it represents a homecoming.
The two Texans return to their home state as a member of the U.S. Men's National Team for Tuesday's matchup with Honduras (9:30 p.m., FOX Sports 1, UniMas), the first for the USMNT at this summer's Gold Cup.
Gonzalez's return proves special for the Dallas native, who will feature in FC Dallas' Toyota Stadium, a site just 25 miles away from Garza's childhood home of Grapevine.
For Garza, who has featured prominently with Liga MX's Tijuana in recent years, the matchup presents him with the opportunity to play in front of family, an opportunity that has been few and far between in recent years. Save for some matchups with his youth teams and a trip to San Antonio earlier this year, Garza has rarely featured so near his loved ones, making his potential Gold Cup debut Tuesday all the more special.
"What else can you ask for, right? It's a dream come true," Garza said. "For me being home and having my family, my parents, my aunts and uncles, grandparents, everyone here to see me, I'm just really happy to be here."
With two local Texas sons returning home, Gonzalez expects a high-level atmosphere when the U.S. takes the field Tuesday night.
While Texas-held matchups against the likes of Mexico have always proven to yield a divided crowd, Gonzalez is expecting to see plenty of red, white and blue in the stands, a presence that he believes will be crucial in getting the U.S. off to a hot start against a tough Honduras team.
"I think it's very special to come back to Dallas while playing for your national team," Gonzalez said. "Playing in such an important tournament and playing against such a good opponent, it's exciting, and hopefully we can get the result we want.
"I think it's going to be great," the defender added. "The real fans are going to get their hands on the tickets, and I know we'll always have a good fan base wherever we go, and so I'm looking forward to a great crowd here, and they're going to be loud, and they're going to be supporting us, hopefully, all the way to victory."
That victory would be all the more important to both Gonzalez and Garza, especially given the people that would be there to witness it.
Gonzalez says that he expects his entire immediate family to be in the stands, while admitting that he does foresee plenty of other friends and relatives buying tickets. Meanwhile, Garza is also expecting a large outpour of familiar faces on hand to witness a moment that will surely be one of the more memorable ones of the defender's short career.
"I have a lot of people here," Garza said "This is where I grew up from when I was about 12 or 13 years old, so it feels good to be home."