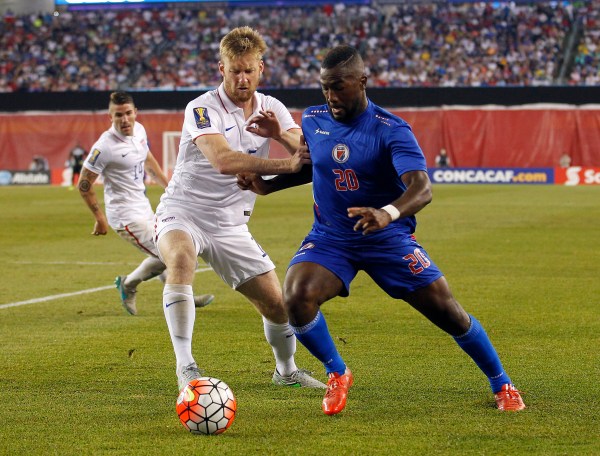 photo by Stew Milne/USA Today Sports
By FRANCO PANIZO
FOXBOROUGH, Mass. — Four years ago, Tim Ream was given the start in the second game of the CONCACAF Gold Cup group stage. He had a great opportunity to impress his U.S. Men's National Team head coach, but he turned in a subpar performance that would mark his last international start for nearly half a decade.
Fast forward to Friday night, and Ream found himself in similar circumstances. This time, however, he put together a 90-minute shift that will likely yield vastly different results for him.
Starting in his first U.S. match since June 11, 2011, Ream made a good case for himself by helping the Americans claim the top spot in Group A with a shutout win over Haiti. Ream and the entire back line had to overcome a nervy start in the 1-0 victory at Gillette Stadium, but eventually settled in to post the Americans' first cleansheet in this Gold Cup.
From an individual standpoint, Ream showed off some of his trademark strengths. He passed well and demonstrated his good feel for the game. Ream also displayed the skills that he has honed since making his last U.S. start four years ago, taking up better defensive positions and holding his own in his individual match-ups.
"You grow as a player," said the 27-year-old centerback. "Obviously I was only in the middle of my second year in MLS (when I last started for the U.S.), and being a professional, I think I've grown leaps and bounds, just the way I play, the way I position. Everything about my game has matured, especially with moving over and being challenged right away over in England. I definitely think I've gotten much better in every sense."
Ream certainly looked far better than the player who gave up a naive and decisive penalty kick in a 2-1 defeat to Panama in 2011, the first and only Gold Cup group stage loss the Americans have had to date.
He pushed past a helter-skelter first 25 minutes against the aggressive Haitians and began to look comfortable next a fairly new centerback partner in Omar Gonzalez. Ream's understanding and positioning were solid, and on one play in the first half he alertly drifted out from his spot to cut off an aerial ball that was being played down the open flank past left back Greg Garza.
You could not tell for large stretches that Ream was playing with a completely new back line, but you could see the defensive improvements that have seen him named the Player of the Year for Championship club Bolton in each of the past two seasons.
"Tim has good qualities. There's no two ways about it," said U.S. captain Michael Bradley. "Another guy with a soccer brain, reads things. For a centerback, his ability to play different kinds of balls forward with his left foot is special. He's somebody who has really established himself at his club team as an important player, as a consistent player.
"In certain moments maybe he's been a little bit unlucky to not have gotten more games with the national team, be it through the good form of other players or whatever it may be. But he's another one who got a chance tonight (and) I thought he showed again what a good player he is."
Jurgen Klinsmann stated that he thought Ream had an overall solid night, though the U.S. head coach noted that the first 20-25 minutes were tough for the defender and the rest of the back four.
Still, the complete performance that Ream put forth will likely give Klinsmann plenty to think about as the Gold Cup rolls along. Klinsmann started the tournament with the centerback tandem of John Brooks and Ventura Alvarado, but neither of the promising youngsters looked to have cemented a starting spot in the 2-1 win over Honduras on Tuesday.
"It's great for the team when we can have, really when you look at this group, four centerbacks who are all able to play and step in and make sure that the team doesn't miss a beat," said Bradley.
Ream admitted on Friday that he hopes to have given Klinsmann something to consider when the manager sits down to decide who will fill the U.S. lineup in Monday's group-stage finale vs. Panama.
Even if that is not the case, it will not take away from how happy Ream is to finally be back in the mix with the U.S.
"It's been a long four years," said Ream. "With my move over to Bolton, it's all kind of come full circle now for me. I'm enjoying playing, I'm enjoying being with this group, and I'm enjoying being at the Gold Cup again."