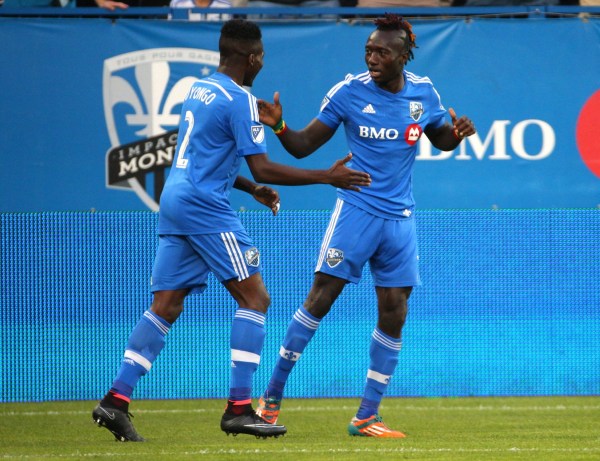 Photo by Jean-Yves Ahern/USA Today Sports
By RYAN TOLMICH
It took just eight minutes for the Montreal Impact to snap a three-game winless run.
Goals from Dominic Oduro and Marco Donadel within the first eight minutes proved to be more than enough for the Impact, as they went on to top the Columbus Crew, 3-0, Saturday at Stade Saputo.
With the loss, the Crew are defeated for the first time since June 6, a loss that, coincidentally, came to the very same Impact.
Less than five minutes into the game, the hosts took the early lead through Oduro, who found himself the beneficiary of Ignacio Piatti's effort to drive through the midfield.
Fouled numerous times as he drove through the Crew's midfield unit, Piatti earned the referee's advantage but played on, slipping a ball through the backline and towards goal. Oduro dashed past his defender and found himself one-on-one with Steve Clark, prompting the Impact forward to take a touch before darting around the goalkeeper to finish easily for the early lead.
Just three minutes later, that lead was doubled in spectacular fashion as Marco Donadel unleashed a long-distance strike to push the lead to two.
Working off a set piece, the ball was played short to Callum Mallace, who took a touch before squaring a pass to Donadel 30 yards from goal. Donadel took a touch towards the center of the field before uncorking a shot, leaving Clark helpless as the ball soared into the top-right corner to put the Impact up 2-0.
Held dormant throughout most of the game, Oduro popped up yet again in the 80th minute, scoring his second of the night against his former club. Following a shot from Dilly Duka shot, Oduro pounced on the rebound and tapped home from close range, sealing all three points for the home team.
The lead was certainly under threat throughout the ensuing 82 minutes, with goalkeeper Evan Bush forced to make numerous plays, including one that nearly saw a penalty called on the Impact shot stopper only to see the referee rule Ethan Finlay offside.
Bush's best moment came in the 59th minute, as the Impact goalkeeper made a diving one-handed stop to keep a long distance Tony Tchani effort out of the net.
With the victory, the Impact pick up the team's 21st point of the season from 16 games, while the Crew remain stuck on 24 points, as four points now separate fourth from ninth in the Eastern Conference.
The Impact return to action July 18 with a trip to Sporting Kansas City, while the Crew will look to bounce back on Wednesday with a midweek trip to take on the Chicago Fire.