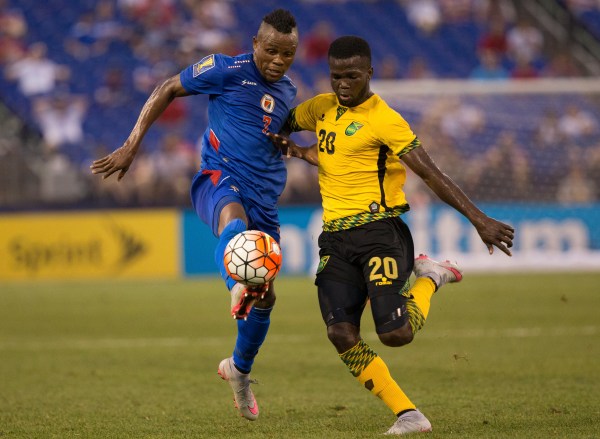 photo by Bill Streicher/USA Today Sports
By FRANCO PANIZO
BALTIMORE — From one Caribbean nation to the next.
The U.S. Men's National Team will meet Jamaica in the semifinals of the CONCACAF Gold Cup on Wednesday after the Reggae Boyz edged Haiti, 1-0, in the quarterfinals nightcap at M&T Bank Stadium on Saturday. Giles Barnes scored the winner from a tight angle in the seventh minute, and the defense did the rest from there to give Jamaica a third straight shutout win.
"We knew what we was capable of, so we're just proving ourselves right," said Barnes. "Everyone in (the locker room) – it's a big family, it's a brotherhood in there – so everyone is so happy for each other. But we've got to just come back down, focus, rehydrate, and get ready for the U.S."
The Americans routed Cuba, 6-0, in Saturday's first match in Baltimore to advance to the semifinals, but Jamaica will pose a much bigger challenge in Atlanta's Georgia Dome on Wednesday. The Reggae Boyz finished group play with an identical undefeated record as the U.S. at 2-0-1, but have won each of their last three games via 1-0 scorelines.
The U.S. has recorded two cleansheets in that same stretch, but questions still persist about the back line. Jurgen Klinsmann's defense has been susceptible to giving up space and chances on the counter, a facet of the game that Jamaica again showed it can thrive in on Saturday.
Haiti threw numbers forward as it searched for an equalizer, but the Jamaican defense stayed compact while speedy attackers attempted to put the game on ice by hitting on the break.
"We have to understand that we have to hit them when we get those spaces because they're a real good team and they can keep the ball," said Jamaica left back Kemar Lawrence. "But they do give up chances like any other team, and it's just about when our forwards get there at the right time and put in their chances away when they get them.
"If it's one chance, then we have to put it away and do like we did tonight and let the defenders do the rest, because we're good players, we have a lot of European players."
The Jamaicans were on a similar good run of form the last time they played the U.S. in a Gold Cup match. They had gone a perfect 3-0 in group play in the 2011 tournament with seven goals scored and zero conceded, but the Americans eliminated Jamaica with a 2-0 win in the first-round of the knockout phase.
Jamaica is not planning on having a similar fate this time around, especially since it wants to make history by winning a first Gold Cup trophy.
"We all want more," said Jamaica head coach Winfried Schafer. "The players want more, the coach wants more, everybody wants more. Jamaica wants more."
—–
What do you think about the USMNT playing Jamaica in the semifinals? How big of a test will the Reggae Boyz be for the Americans? Were you impressed by Jamaica's 1-0 win over Haiti?
Share your thoughts below.