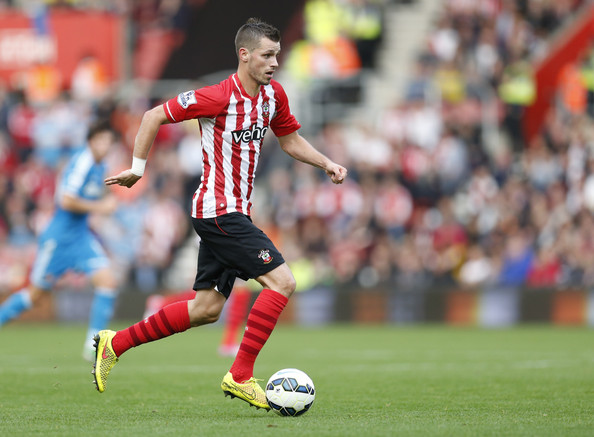 By RYAN TOLMICH
Bastian Schweinsteiger isn't the only star central midfielder that will be joining Manchester United this summer.
Man United announced Monday that the club has signed Morgan Schneiderlin from Southampton. The midfielder has signed a four-year deal with an option to extend for a further season.
"I am delighted to be a Manchester United player," Schneiderlin said. "Once I learned that United were interested in signing me, it was a very easy decision to make.
"I have enjoyed seven very happy years with Southampton and it's a club that will always be in my heart. But the chance to be part of this squad to help this great club be successful was too good to miss."
The 25-year-old Schneiderlin made 253 appearances and scored 15 times for Southampton since making his debut in 2008, while also earning nine caps for France on the international level.
Here are some more news and notes to kick off your Monday morning:
PARENTS FEEL CASILLAS WAS 'FORCED OUT' OF REAL MADRID
Iker Casillas had his tearful farewell to Real Madrid Sunday, but the goalkeeper's parents insist that it did not have to be like this.
Casillas confirmed that he is departing Real Madrid for Porto, putting an end to his 25-year stay with the Spanish club. However, Casillas' family believes that the goalkeeper was "forced out" of Real Madrid, stating that his departure, and subsequent club choice, should have been more befitting of his stature.
"Iker has put up with a great deal, he has suffered psychological pressure and they treated him differently to other players," Mari Carmen, Casillas' mother, told El Mundo. "I have watched him suffer for many years. It is (Real Madrid president Florentino Perez) who is pushing him out because he wanted to end his career at Real Madrid.
"Porto is a third-tier team for someone of Iker's stature," she continued. "A world champion can't end up at Porto. He could have gone wherever he wanted and I wouldn't have cared if it had been Barcelona because they are gentlemen."
FA DENY HULL CITY NAME CHANGE TO HULL TIGERS
For the second time, the English FA has put the kibosh on a potential Hull City name change.
The FA denied the club's name change to the Hull Tigers for the second time since the club was taken over by owner Assem Allam. Hull City, which has been known as such for 111 years, will continue to operate under the same name after a council yielded a 69.9 percent vote against the change.
The FA's decision was widely supported by the Hull Supporters Trust, although Allam has previously made threats to sell the team should the name change not go through.
"We always knew that following a change to the FA's policy, the chances of changing the name were slim but we also feel it is important to fight for what you believe in and we believe that being called Hull Tigers would be the best strategy for the future," said Allam's son, Elab, in a statement.
"We will be taking some time away from the club to consider our options and we will make no further comment until we have come to a conclusion."
QUICK KICKS
AC Milan midfielder Stephan El Shaarawy is nearing a transfer to Monaco. (REPORT)
Chelsea has completed the signing of goalkeeper Asmir Begovic from Stoke City. (REPORT)
Ciro Immobile has departed Borussia Dortmund to join Sevilla on a season-long loan. (REPORT)
Fabian Delph has ruled out a move to Manchester City while restating his commitment to Aston Villa. (REPORT)
—
How will Schneiderlin fit at Manchester United? What do you think of Casillas' departure from Real Madrid? What do you think of the Hull City name change to Hull Tigers?
Share your thoughts below.