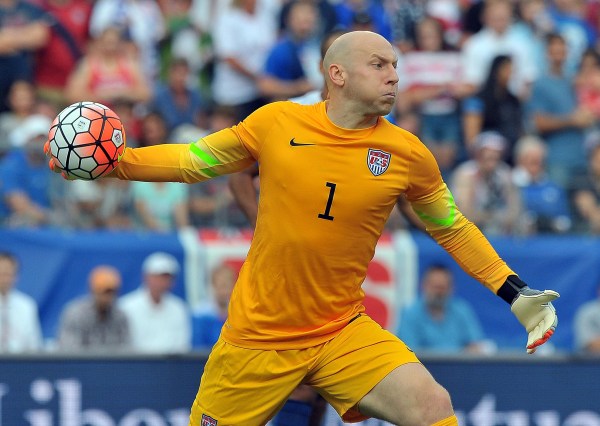 photo by Jim Brown/USA Today Sports
By RYAN TOLMICH
The U.S. Men's National Team has already booked a spot in the quarterfinals, but do not expect Jurgen Klinsmann to allow his side to get complacent.
Klinsmann said as much Sunday night ahead of the USMNT's third and final Gold Cup group stage match-up against Panama, scheduled for Monday night at Sporting Park in Kansas City, Kansas.
Entering its Group A finale, the U.S. has failed to really impress despite taking care of business by snagging six points from the opening two games. Lackluster against Honduras, the U.S. again struggled to muster much of anything this past Friday against a major underdog in Haiti before finding a winner in the second half of a 1-0 victory.
Because of the Americans' struggles, Klinsmann said that his team is far from complacent and still has expectations to live up to regardless of if advancement is already secured.
"I think they understand the difficulties of this competition and the fact that people expect them to do well," Klinsmann said. "They expect them to win the games and I think that's a very good thing. The expectations are higher now and the fans want to see good games and want to see them succeed.
"With those expectations, you have to be on your toes. That's what we want to see. If we see some things that don't work out the way we want it, we talk about it. If there are some critics, that's good."
One of the more commonly criticized members of the U.S. to this point has been forward Jozy Altidore, who has struggled in recovering from an injury in the build-up to and throughout the Gold Cup.
Klinsmann has been quick to point out that Altidore will continue to be a focal point of the U.S. attack, as getting the forward back into a groove is deemed essential as the tournament wears on. In addition to Altidore, Klinsmann all but confirmed appearances for Alejandro Bedoya and Alfredo Morales, the two field players who have yet to make an appearance to this point in the tournament.
However, Klinsmann has indicated that he wants to continuing to build rhythm heading into the knockout stages. As such, a strong lineup is expected vs. a Panamanian side playing for its tournament life.
"There's not much about resting," said Klinsmann. "It was good for us that we started with a win right away against Honduras, and with the fact that games are every three games in the group stage, yes, you bring in a bit of a rotation system because some of the players are just not ready to play every three days.
"We used that rotation in the game against Haiti and now we have, again, the option to get fresh players into the game as well. That's just a tricky situation with the group phase, but also it's something positive as long as you get the results at the same time. "
Klinsmann and his team know that the games that matter are around the corner, and need to be better prepared for them. That is why the focus is on not only beating the Panamanians, but doing so with a much-improved performance.
"Panama is desperate to get a result, at least a tie, but they will be looking for a win," Klinsmann said. "Knowing that, it's going to be another grind. It's going to be another fight and we're ready for it."