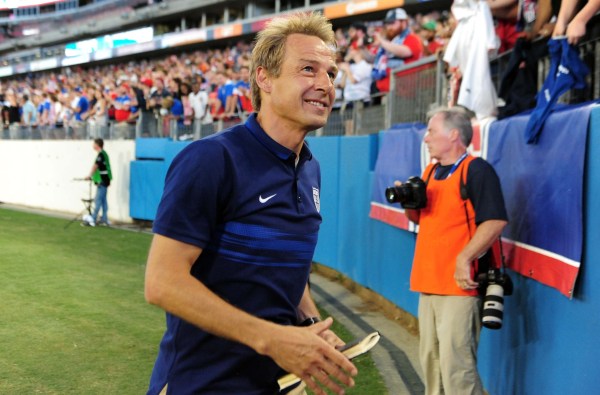 Photo by Jim Brown/USA Today Sports
By RYAN TOLMICH
FOXBORO, Mass.– Jurgen Klinsmann is far from concerned with his team's drop in the latest FIFA rankings. Rather, the U.S. Men's National Team head coach is more puzzled by how those rankings are calculated in the first place.
The U.S. dropped seven places in the most recent FIFA rankings, which listed the team at No. 34 despite recent wins over the Netherlands, Germany, Guatemala and Honduras. In addition, fellow CONCACAF powers Mexico and Costa Rica fared even worse, falling 17 and 27 spots, respectively.Meanwhile, non-traditional powers such as Wales and Romania each find themselves in the top 10 due to recent performances in European qualifying.
The rankings, which place added incentive for tournament wins rather than friendlies, are puzzling to Klinsmann, who says he has had issues with the calculation for years. With his team preparing for a Gold Cup match against Haiti, Klinsmann says that his team's ranking is far from the first thing on his mind as the team continues on its tournament run.
"I don't know how they work that thing, to be honest," Klinsmann told media on Thursday. "I've always said that years ago when I was with Germany, too. If somebody could explain that to me, I don't know. If there are teams that don't play in a World Cup or a European Championship or a Copa America in the top 10, I don't get it.
"Maybe it hurt us that we beat Germany and Holland so we dropped. I don't know, but we'll leave that up to them. That's not something that steals my sleep."
The U.S. should see its ranking improve after this summer's CONCACAF Gold Cup, which will provide as many as six matches to compile points from. The same can be said for Mexico, which has dropped to its lowest ranking since the FIFA rankings.
Several European nations saw their rankings jump dramatically after recent Euro qualifying results, while South American nations moved up courtesy of recent Copa America results. Argentina, which fell in the Copa America final, moved up to No. 1 in the World in the latest rankings, moving past reigning World Cup champions Germany, which endured some recent Euro qualifying disappointments.
What do you think of Klinsmann's comments? How do you expect the USMNT's ranking to be affected by the current Gold Cup?
Share your thoughts below.