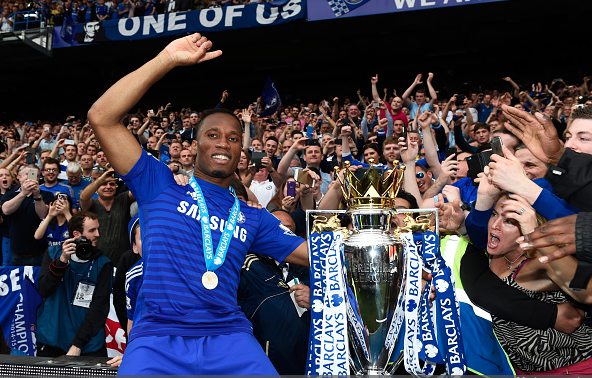 By FRANCO PANIZO
From Giovani Dos Santos to Andrea Pirlo to Sebastian Giovinco, MLS has added a number of big names this year and the league is reportedly hoping to sign another in the near future.
ESPN FC reported on Friday that MLS has offered a contract to Didier Drogba, the 37-year-old striker who just helped Chelsea win the Premier League crown. Several MLS clubs are said to be interested in landing the former Ivory Coast international, but it is the Chicago Fire who are reportedly in pole position to acquire Drogba should he sign with the league. An unidentified Qatari outfit is also believed to be in pursuit.
Currently a free agent, Drogba has been offered an 18-month contract by MLS that is estimated to be worth $2.5 million a year. The Fire have all three of their Designated Player slots filled, but could add Drogba if they buy down the salary of someone like David Accam or Kennedy Igboananike using the new Targeted Allocation Money mechanism.
The prolific forward, who has been linked with a move to MLS on a number of occasions in recent years, has spent almost his entire career in Europe. Drogba has won a number of titles on that side of the pond, including the UEFA Champions League, and is known for his powerful style of play and goal-scoring exploits.
Drogba has enjoyed plenty of success at the international level, too. He is Ivory Coast's all-time leading scorer with 65 goals in 104 appearances, and appeared in three World Cups before announcing his international retirement last August.
Drogba is coming off a campaign with Chelsea in which he helped it win the Premier League title by scoring four goals in 28 appearances.
If he were to sign with MLS, Drogba would be the latest recognizable player to do so in 2015. Several other notable names have joined MLS this season, including Pirlo, Giovinco, Frank Lampard, and Steven Gerrard.
—–
What do you think about MLS reportedly offering Drogba a contract? How big of a coup would he be for the Fire if they landed him? How many goals could you see Drogba scoring in an MLS season?
Share your thoughts below.