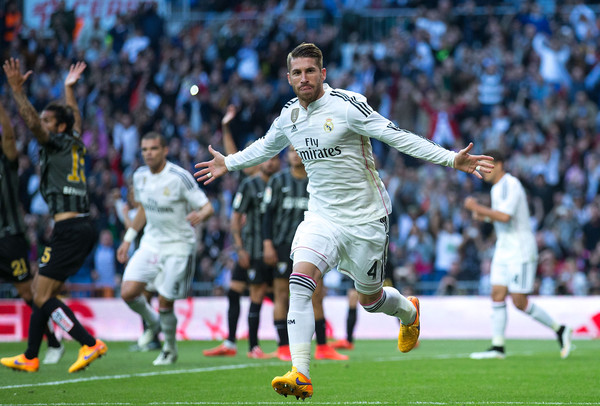 By DAN KARELL
It's looking less and less likely that Sergio Ramos will receive his wish to leave Real Madrid this summer.
Speaking at a press conference in Melbourne, Australia, where Real Madrid are in the early stages of their preseason, manager Rafa Benitez said that Florentino Perez assured him that Ramos would not leave this summer and Benitez added that he has Ramos in his plans for this season.
Ramos had been subject to reports and rumors over a big-money transfer move this summer to Manchester United, following his reported request to leave earlier this summer.
"The president has said that he will continue and that he will remain with us. If that happens, I will be the happiest man in the world," Benitez said, via AS. "I have spoken to Sergio several times over the summer and when we were in Madrid we discussed his future, his ideas and our plans. It's not an issue we have talked about since then. My only worry is that he works hard and trains hard.
"I see the future of Madrid with Sergio because he is a fundamental player for us for all of his qualities, his mentality and his leadership."
Here are some more reports from around the world of soccer:
BENTEKE NEARING MOVE TO LIVERPOOL
Looking to make up for last season's scoring woes, Liverpool are preparing to make a big splash to bring in a proven goal scorer in the English Premier League.
According to multiple reports in England, Liverpool are set to trigger Aston Villa forward Christian Benteke's release clause of £32.5 million ($50.67 million). Benteke scored 11 goals in Aston Villa's last 11 league matches of the season, helping them avoid relegation.
Benteke, a native of Kinsasha in the Democratic Republic of Congo but a Belgian international, missed the 2014 World Cup after tearing his achilles tendon in April 2014, and didn't return until October. It then took him a few months to regain his rhythm, where he shone for Aston Villa down the stretch of the season.
Benteke's arrival would be paid for largely with funds received by the sale of Raheem Sterling to Manchester City. He'll be competing for a place up top with Mario Balotelli, Daniel Sturridge, Rickie Lambert, and Divock Origi.
LEGENDARY WORLD CUP GOALSCORER GHIGGIA DIES
Alcides Edgardo Ghiggia, the most famous Uruguayan goalscorer in their nation's long soccer history, once reportedly said only three people have quieted the Maracana: The Pope, Frank Sinatra, and himself.
Ghiggia, who is most famous for scoring the game-winning-goal in the 1950 World Cup final against Brazil in front of 200,000 fans the Maracana in Rio de Janeiro, passed away at the age of 88 on Thursday. Ghiggia's son Arcado told the AP that Ghiggia died of a heart attack.
With around ten minutes remaining in regulation and the match tied, 1-1, Ghiggia stormed into the right side of the box on his own, and beat Brazil's goalkeeper Moacir Barbosa with a shot inside the near post. Brazil, who had been leading 1-0 earlier in the game, only needed a draw to win the World Cup, which would have been their first ever. Instead, the two goals conceded led to the event being nicknamed the "Maracanzo," and a defeat that is still talked about in Brazil to this day.
It's perhaps fitting that Ghiggia's passing came on the 65th anniversary of his famous goal to win the World Cup. He was the last surviving member of that Uruguayan squad.
QUICK KICKS
FIFA are planning to remove the requirement that bidding countries for the World Cup invest in soccer development abroad, due to allegations that FIFA ExCo members demanded funds in exchange for their vote. (REPORT)
Cornel Borbely, the new head of the FIFA Ethics Committee after Michael Garcia's departure, has called on FIFA to change their statutes to make the ethics committee more transparent. (REPORT)
Real Madrid are close to completing a €6.5 million ($7.08 million) transfer move for Espanyol goalkeeper Kiko Casilla, likely as a replacement for Iker Casillas. (REPORT)
River Plate forward Teo Gutierrez is on his way to Portugal to complete a €3 million ($3.27 million) with Sporting Lisbon. (REPORT)
Beitar Jerusalem owner Eli Tabib has declared he will sell his stake in the club after Beitar fans caused crowd trouble during the Israeli team's 5-1 thrashing at the hands of RC Charleroi. (REPORT)
————-
What do you think of these reports? Do you see Ramos remaining at Real Madrid this season? Should Benteke start immediately for Liverpool? How do you believe Ghiggia will be remembered?
Share your thoughts below.