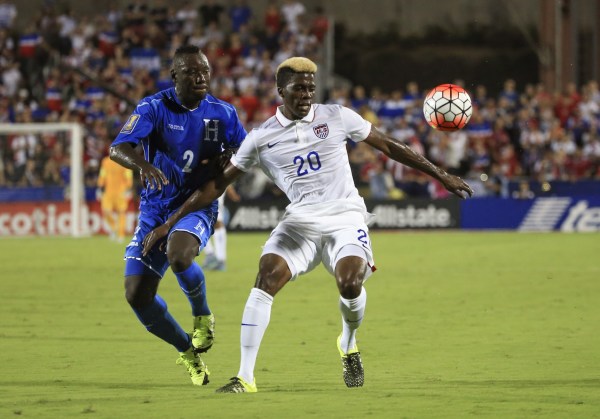 Photo by Kevin Jairaj/USA Today Sports
By RYAN TOLMICH
FOXBOROUGH, Mass, – Gyasi Zardes may have been one of the lone bright spots on Friday night, but the U.S. Men's National Team forward knows that performances like the one put forth against Haiti are about much more than just him.
Zardes proved to be the difference maker for the U.S., playing helper in setting up Clint Dempsey's game-winning finish in an ugly 1-0 win over Haiti on Friday night. Entering at halftime, Zardes proved menacing, running repeatedly up and down the left wing and giving Haiti more problems by himself than the rest of his teammates had in the first half.
The performance was just the latest to show improvements for Zardes, who continues to be a key contributor to the national team less than eight months after his first call-up. Despite all of the praise and accolades that come from his continued international rise, Zardes is quick to give credit to the elite players that he is fortunate to be surrounded by for both club and country.
"You've got Kyle Beckerman, Michael Bradley, Jozy Altidore, Clint Dempsey, these are the top and I'm just trying to be a player like those guys," said Zardes. "I'm just trying to pursue my career and hopefully be like them one day. Hopefully, I can just keep growing as a player.
"It's a lot of confidence coming from that," Zardes added. "I've learned so much from Robbie Keane and Landon Donovan. I always pick their brain with the LA Galaxy and they give me helpful tips. That's what really made me feel at home with these guys on the national team as well. It's just phenomenal being in the same atmosphere with all of these top talents."
As Zardes continues to establish himself in that realm of international talent, head coach Jurgen Klinsmann pointed out that the forward is still in the process of finding his place among the national team.
Klinsmann was quick to state the known positives of Zardes's game: his speed, his ability to take people on, his creativity and clinical touch in the box. What impresses Klinsmann the most isn't Zardes' physical prowess, but rather his innate ability to keep his head firmly planted upon his shoulders at all times.
"With Gyasi it's a process that we are watching, that we are helping with," Klinsmann said. "His club, as well, is doing a tremendous job. There's a lot of talent, a lot of potential and we just want to tell him every day that it's one step at a time.
"He brings a positive attitude to the game, to his work. He's not shy of doing extra (work) whenever you ask him something. He's a curious personality. He wants to constantly learn. It's a real joy to work with him."
Zardes went onto confess that he has become a bit of a film junkie, thriving on all of the resources provided to him to analyze his performance after each and every game. The repeated analyzing has helped the 23-year-old Zardes establish himself out wide as a midfielder, which is different than his more preferred forward position.
But for Zardes the spot on the field matters little, and the goal remains the same. No matter where he lines up, Zardes has one idea in mind: Attack.
Whether the target is the opposing defenses or his continued opportunities with the national team.
"I feel like when I play out wide, I want to be a more attacking threat," Zardes said. "Defensively, I'm doing well, but I just want to attack every chance I get the ball. I just want to go forward. I don't want to go backwards or sideways, I want to go forward.
"Obviously it's your first time with this group," he added, "but I feel like the more games, the more chances I have with the coaches and this team, I'm starting to become more comfortable with my own character. "