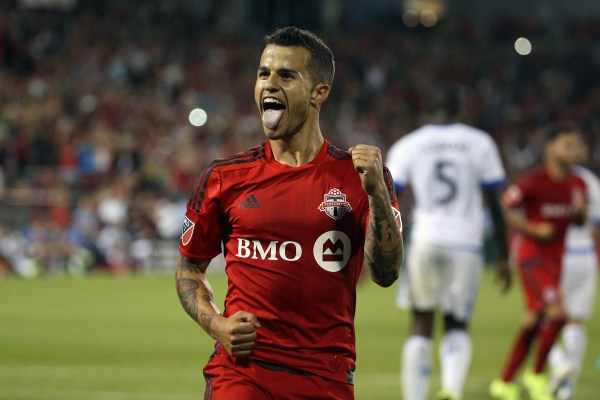 Photo by Tom Szczerbowski/USA TODAY Sports
By AARON CRANFORD
Lots of new and exciting talents joined the Major League Soccer fray in 2015, but one Italian has stolen the show, teaching teams and players across the league that size does not matter on a soccer field.
Sebastian Giovinco may be one of MLS' shortest players, but the "Atomic Ant" packs a mean punch and has dazzled fans across the league with his scoring and passing abilities for Toronto FC. His play through half of the season is worthy of SBI's Mid-Season Newcomer of the Year honors.
He has appeared in all 17 of TFC's games, scoring 11 goals — the second most in MLS — and assisting eight times, fourth in the league. Sometimes single-highhandedly, he has led TFC to fourth place in the Eastern Conference, as the Canadian franchise pushes to qualify for the MLS playoffs for the first time in history.
Giovinco just beat out a field that included New York City FC forward David Villa, Orlando City SC star Kaka and more.
Here is a closer look at the Mid-Season Newcomer finalists:
SBI MLS MID-SEASON NEWCOMER CANDIDATES
1. SEBASTIAN GIOVINCO
Toronto FC can almost taste the playoffs, and it has one man to thank. U.S. stars Michael Bradley and Jozy Altidore have helped but have also missed time, allowing Giovinco to emerge as TFC's true leader, scoring and creating in almost every match.
2. DAVID VILLA
New York City FC's first-ever signing has lived up to his billing. In 16 games for the expansion franchise, Villa has netted 10 times while assisting three goals. With two more stars in Andrea Pirlo and Frank Lampard joining the fight, Villa's numbers could skyrocket by season's end.
3. KAKA
Orlando City SC and its fans couldn't have asked for much more from Kaka at the midway point of the 2015 MLS season. The Brazilian star has flashed his magic more often than not, scoring nine goals and assisting twice in 18 games with OCSC.
4. OCTAVIO RIVERO
The Vancouver Whitecaps are arguably the Western Conference's biggest surprise halfway through the 2015 season, and one person they can thank is Rivero, who has netted seven times and assisted twice — including scoring five times in the team's first six games.
5. LAURENT CIMAN
The only defender to grace the list of finalists, Ciman has been an anchor in the back for the Montreal Impact, who are trying to climb back into the playoff picture in the Eastern Conference. His calmness on the ball in defense is easily noticeable, and he even has a goal and an assist to his name in 2015.
———
Who is your Mid-Season Newcomer of the Year? Who do you think should have made the finalists but didn't?
Share your thoughts below.