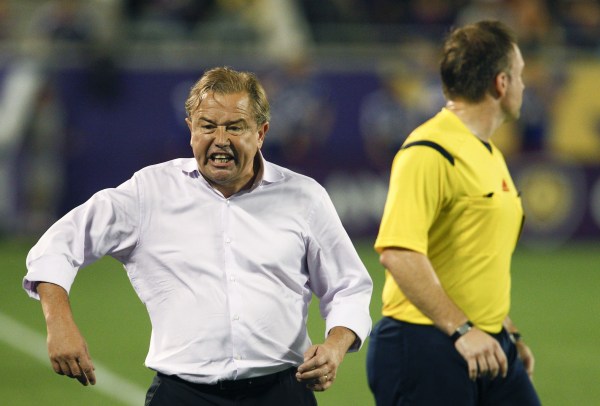 Photo by Reinhold Matay/USA TODAY Sports
By MIKE GRAMAJO 
ORLANDO, Fla. — When Orlando City began play in Major League Soccer back in March, they never envisioned a first half of the season being so plagued with officiating controversy.
But after Saturday's 2-0 defeat to the hand of the New York Red Bulls, Orlando City head coach Adrian Heath is left with questions that he believes will remain unanswered after his side finished the game with 10-men for the third consecutive game.
"I tried to ring the referee's last week but nobody gets back to you," Heath said on last week's expulsion of defender Luke Boden, which saw Orlando fall to FC Dallas at home 2-0. "I really don't know what to say about the officials because if you say something, you get fined and you get in trouble. And if you say nothing, nothing changes.
"It was a decision that cost us the game last week, and I think and to be fair to both sides, the referee issued so many problems this evening, for both teams. I don't know what we do, cause I can't say anything. I'm fed up of coming in and talking about them. This game is not about them [referee's], it's about the players."
Orlando City currently sits second in the league for amount of players with red card this season,  with Aurelien Collin, Rafael Ramos, Brek Shea, Kaka, Luke Boden and, most recently, each seeing early exits from games this season.
Larin, who was sent off in the 32nd minute, became the third consecutive Orlando City player to see red after Boden was dismissed last week in the final minutes of the FC Dallas game on July 11. The week prior, Kaka was given a straight red card at Rio Tinto stadium, which Orlando City evidently finished with a 1-1 tie against Real Salt Lake.
Heath, however, remained objective on the officiating Saturday night, admitting that officials even failed to call fouls committed by his players.
Focusing on Larin's dismissal in particular, Heath says the decision changed the dynamic of the game. Out of the six games where the Lions finished with 10-men, they never managed to clinch a winning result, setting a 0-3-3 record every time Orlando City finish a game down a player.
"I thought it was going to be a great game of football," Heath said.  "It's like every week, I don't know what to say. It's not just me, I can understand people saying that's just him moaning, but it's not just me.
"We started really well, they had a great goal, and here we are again talking about people that don't really matter. They should be seen not heard, that's what I was told. It seems to be every week, somebody blaming the officials for the outcome of the games. 14 games left, we have to get everything, we have to be fighting to the end."
The Orlando City coach wouldn't exactly say if the club will appeal Larin's red card, but with the Canadian international as of now expected to miss the New York City FC clash next week at Yankee Stadium. The Lions will also be without the services of Colombian midfield Cristian Higuita, whose yellow card in the 65th minute will result into a one-game suspension due to yellow card accumulation.
Heath would see enough of the referee's after he was ejected out of the field in the 74th minute for constant protesting, leaving the field and firing up a Citrus Bowl crowd that seated 33,518 Saturday evening.
In a tight Eastern Conference race, Orlando City sit in sixth place — the last playoff spot — with 24 points.