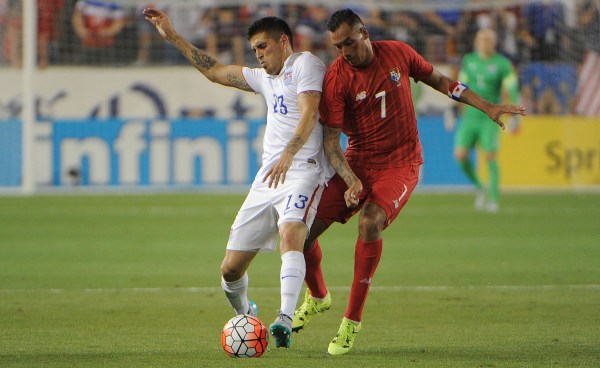 photo by John Rieger/USA Today Sports
By FRANCO PANIZO
Jurgen Klinsmann had no qualms about criticizing the U.S. Men's National Team following its subpar showing in a lopsided friendly victory at the start of the month.
Ten days and three games later, the performances have not improved much but Klinsmann's tone has.
The U.S. closed out Group A play at the CONCACAF Gold Cup on Monday by settling for a 1-1 draw with Panama at a sizzling Sporting Park in Kansas City, Kansas. The Americans erased a lackluster first half that saw them fall behind by putting forth a much-improved effort after the break that included a goal from captain Michael Bradley.
Even with positives to draw from, there was still a general feeling of disappointment from large sections of fans and pundits. This, to them, was an extension of the poor play that the U.S. maneuvered through in recent wins vs. Honduras and Haiti, but that will not cut it when the knockout rounds against tougher opposition begin this weekend.
As he did in the previous two group games, Klinsmann acknowledged the need for improvement. At the same time, he was pretty pleased with the progress that he has seen his players make from the start of the Gold Cup until now.
"You can kind of take the game a part and you see that here and there we don't have the passing rhythm that we wish to have," said Klinsmann. "When things get a little bit difficult we make easy mistakes, we give some turnovers away, so there's always something that you see that you want to see differently.
"But overall the attitude is tremendous, the spirit in the group is good, they all know that we're going to grow from game to game, and that's what the tournament is all about. I'm pretty happy with where we are right now, but I know that the next one will be even more difficult."
As positive as Klinsmann may have been, the U.S. players admitted the need to deliver a more complete performance. That has so far eluded the Americans in this competition, even as they have managed to record two wins and a draw.
Simply put, the U.S. right now looks far from a championship-caliber team. Defensively, there have been a number of blunders. In possession, players have looked disjointed for large stretches and their decision-making has been a level or two below the usual standard.
While Klinsmann has stressed that it will take time to get everyone on the same page given the delayed timing of this edition of the competition, the time to work out the kinks is running out. Monday night only emphasized that point.
"We know it wasn't good enough," said goalkeeper Brad Guzan. "We know that we need to put together a 90-minute performance."
Even so, there is still a sense of belief from the U.S. that things will come together in due time. The Americans are fully aware that they have not been at their best yet, but are not too concerned.
They want to be peaking when the games are do-or-die, not before.
"I think the most important thing is that you're hitting your stride in the later stages of the tournament instead of hitting it early because later on is when you need to be playing your best to win a tournament," said forward Clint Dempsey.
Klinsmann and his players may be somewhat satisfied with how the process is coming along, but the U.S. manager did not rule out making changes to his 23-man roster.
CONCACAF allows teams to make up to six changes to their squads after the group stage concludes but before the knockout rounds begin. Klinsmann said Monday that he had "some ideas" as to what he would, but wanted to sit down at the team hotel and marinate on them before making final decisions on Tuesday.
In any case, the U.S. needs to find another gear. The win-or-go-home games are fast approaching, and will likely require more from the Americans than what they have shown so far.
"Now it's really getting to the serious stuff: Knockout stage. This is what a tournament is all about," said Klinsmann. "You kind of want to go from one to the next and to the next. It's a process that we're in. We can improve still a lot, absolutely, and that's what we're working on."