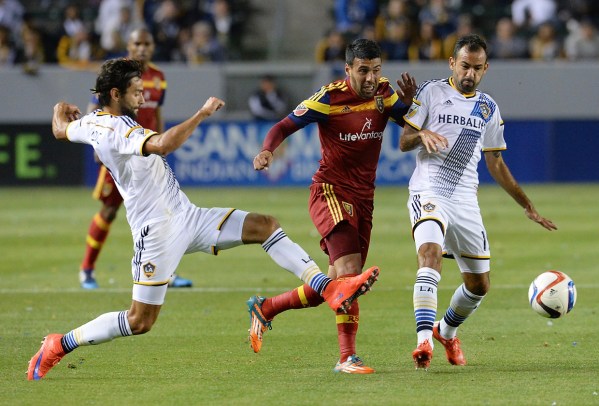 By MICHAEL PENG
While Steven Gerrard is expected to make his competitive debut for the LA Galaxy Tuesday, what is at stake is a trip to the U.S. Open Cup semifinals when the Galaxy visit Real Salt Lake at Rio Tinto Stadium.
And for the reigning MLS Cup champions, this tournament's prestige is still something they covet quite a bit.
"We're in the quarterfinals now, and we'd like to play three more games in this competition," Galaxy head coach Bruce Arena told LAGalaxy.com. "It's an important game, and we're going to do our best to win."
The Galaxy captured the 2001 and 2005 U.S. Open Cup titles under Arena but has not been back in the tournament's semifinals since 2006.
"It's an opportunity for us to win some hardware and we can all see the end of that finish line," defender Dan Gargan said. "Some of the earlier games are tough to play in, and tough to get results, but this won't be any different … It's a priority for us."
Real Salt Lake, meanwhile, came close to winning the competition in 2013 when the club participated in the tournament's final against D.C. United but lost a 1-0 decision at home. The heartbreak would be later further lamented when the club also lost in the MLS Cup final two months later.
Currently RSL head coach Jeff Cassar was an assistant during that season but does not want to think about the history too much this time around.
"We're three wins away from winning the Open Cup," Cassar said, per Real Salt Lake's website. "We can't let anything in the past linger. It was five wins to win the cup when we started; we have three more to go."
The quarterfinal match between the two sides will mark their third meeting this season, with a 0-0 draw coming on May 6 at Rio Tinto Stadium and a 1-0 win earned by the Galaxy at StubHub Center on May 27.
The two sides, however, are coming off opposite results in their latest competition, respectively.
Real Salt Lake squandered a late 1-0 lead on the road Saturday and saw the last-place Colorado Rapids score three times after the 80th minute to snatch all three points away. The Galaxy, meanwhile, defeated one of Liga MX's top sides and the 2014-15 CONCACAF Champions League winner Club America, 2-1, in the International Champions Cup.
Gerrard made his Galaxy debut in the win over Club America, starting and playing just the first half, but whether he will be in the starting lineup again Tuesday night has yet to be determined.
"We have options, we have players who can play on both Tuesday and Friday, we'll make those decisions when we arrive in Salt Lake City," Arena said. "We'll see, we'll get it figured out."
Picking up a win in Salt Lake City will not be easy for the Galaxy, though, as not only has the club picked up just one win on the road since last August — a 1-0 win over the Earthquakes in San Jose in the Open Cup's fifth-round match on July 1 — but RSL also boasts an impressive record in elimination games at home.
The hosts are 9-5-2 all-time in these types of matches and a win for it would mean a second chance to be included in the tournament's final four within three years. RSL last defeated the Portland Timbers in the 2013 U.S. Open Cup semifinals before losing a 1-0 decision to D.C. United in the final.
Tuesday night's winner will await the victor between Sporting Kansas City and Houston Dynamo — which kickoffs next Tuesday for a meeting in the semifinals on Aug. 11.