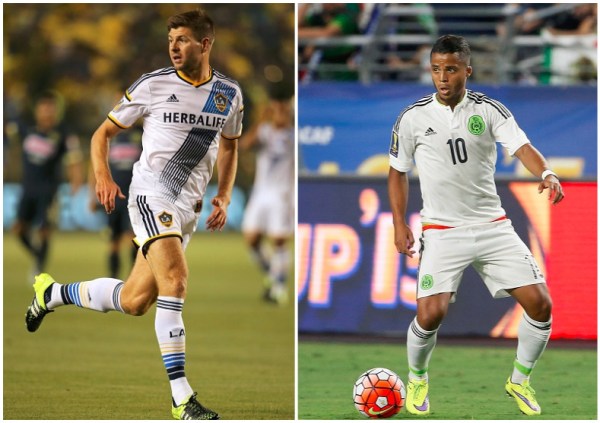 Steven Gerrard is set to make his Major League Soccer debut for the LA Galaxy in Friday's California Clasico vs. the San Jose Earthquakes (11 p.m., UniMas), but another star may prove to be more important to the team's success and brand.
Giovani Dos Santos has reportedly completed his move from Spanish club Villarreal to join the Galaxy and will suit up for the five-time MLS Cup winners after the conclusion of Mexico's 2015 Gold Cup run.
Each player will be expected to make an impact for the Galaxy, albeit in different ways. In the Galaxy's defeat to Real Salt Lake in the U.S. Open Cup Tuesday, Gerrard stayed central and helped distribute forward from the midfield. The 35-year-old star will most likely not be used as a box-to-box midfielder, but as shown in Tuesday's match, Gerrard can still turn on the jets and cause havoc.
Dos Santos will likely either be used up front with Robbie Keane, pushing Gyasi Zardes out wide, or vice versa. His role in the Galaxy attack should be more noticeable, and chances will come, as they have all year for the Galaxy.
Both Gerrard and Dos Santos also have extensive resumes with club and country, but each also appeals to a separate market, making both signings valuable in the grand scheme of things.
The question we have for SBI readers today is this: Which signing is bigger for the Galaxy? Dos Santos or Gerrard?
Gerrard has numerous accolades, including being Liverpool's longest-serving captain while making 696 appearances and scoring 182 goals across all competitions. He is a UEFA Champions League winner and led Liverpool to nine more trophies during his tenure with the English club.
Internationally, Gerrard most recently captained the England National Team in the 2014 FIFA World Cup, and in total, he's made 114 appearances while scoring 21 goals for country.
Meanwhile, since his stints with Barcelona, Mallorca, Tottenham, Racing Santander, Galatasaray and Ipswich Town, Dos Santos has been with Villarreal for its two previous campaigns, and while he netted 11 goals and assisted 8 times in 26 starts for the club in the 2013-14 season, his form dipped in the 2014-15 season.
However, Dos Santos has remained a key member of the Mexico National Team, racking up 88 caps and scoring 20 goals for El Tri, while also currently helping his country in the Gold Cup.
When it comes to brand recognition, Gerrard's name may be more recognized around the world, due to Liverpool's status as one of the most well-known and supported from the most-watched soccer league — the English Primer League.
However, a Mexican international playing week in, week out in Los Angeles will undoubtedly attract the attention of Mexican national team supporters to the team and league. And while pockets of Liverpool fans across the country will turn up to see a club legend when the Galaxy travels, a similar Mexican contingent will surely do the same to catch a glimpse of one of their stars.
With that in mind, we pose the question to SBI readers: Do you think Gerrard or Dos Santos is the bigger Galaxy signing in 2015? Cast your vote here:
[polldaddy poll=8981525]
Who do you think will help the Galaxy the most? Think one signing is more important for brand recognition over the other?
Share your thoughts below.