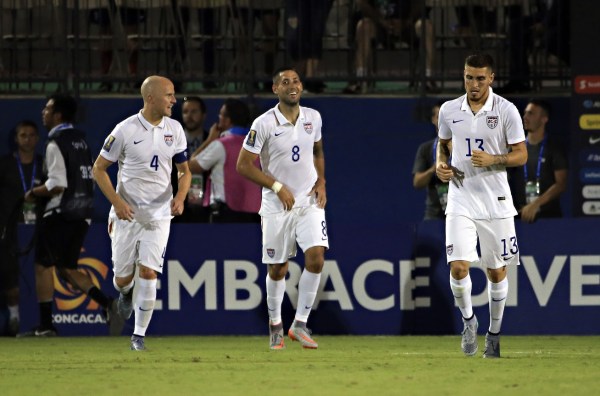 Photo by Kevin Jairaj/USA Today Sports
By RYAN TOLMICH
Following a tournament-opening win over Honduras, Michael Bradley took a little bit of time to reflect on his most recent international achievement.
The U.S. Men's National Team midfielder picked up his 100th cap Tuesday night, adding yet another milestone to what has been become a long and productive USMNT career. Bradley, as per usual, remained focused on preparing for the team's upcoming match against Haiti, but the U.S. captain did reveal exactly how much it means to continue to press on as a member of his national team.
"I've said it a few times this week: growing up, if somebody told me I would have the chance to just play one time for this team, I would have bitten their hand off and said it was a dream come true," Bradley said. "To have the chance to play 100 times is honestly more than I ever could have imagined and I don't ever take it for granted. I step on the field every single game ready to give everything I have for the team, the colors of our country, and that part will never get old.
"I know there will be time later to look back on it and remember it in some ways, but at the moment I'm much more concerned with trying to move ourselves forward in this tournament to find a way that at the end of the month we're holding up a trophy."
Here are some more news and notes from the USMNT's win over Honduras:
KLINSMANN PRAISES DEMPSEY, BACKS ALTIDORE TO RETURN TO FORM
After all of the controversy surrounding his U.S. Open Cup incident last month, Clint Dempsey offered Jurgen Klinsmann a glimpse into exactly what the USMNT head coach wants to see.
Dempsey bagged a brace in Tuesday's victory in his first game since seeing Michael Bradley given the title of captain that the forward had possessed for the past few years. For Klinsmann, the only title of Dempsey's that matters is that of a goalscorer, a title that Dempsey more than lived up to on Tuesday night.
"We made a decision and he was absolutely on board with it," Klinsmann said of Dempsey. "I was a striker myself, and you go through those moments where you made a mistake or you did something wrong, and all you want to do is you want to move on. As a striker, what you want to do most is scoring. You live for that as a striker. You just want to put that ball in the net, and he did now again two times tonight.
"I think when you score two goals you have to be happy with Clint. He's doing exactly what he does best: he's scoring."
While Dempsey provided his team with a pair of goals, his strike partner, Jozy Altidore, was held relatively quiet before being substituted early in the second half. For Klinsmann, that was to be expected, as Altidore continues to round into form given his recent hamstring injury with Toronto FC.
As the tournament wears on, Klinsmann expects to get more and more out of the TFC forward, especially as Altidore continues to work himself into better game shape. Having seen positives in his contributions on the first U.S. goal, Klinsmann believes Altidore will be a major factor as the U.S. continues into the latter stages.
"Jozy is still in a phase where we have to build him after his hamstring," Klinsmann said, "and the only way we're going to get him stronger is by giving him minutes, playing him and working him hard also in training. Jozy will improve everyday here in this tournament.
"He's not there yet, which we knew. He came with that hamstring injury, so we'll do everything possible to get him to top form as quickly as possible, but it's not going to happen overnight."
GUZAN BACKED TO SUCCEED DESPITE STRUGGLES ON CLUB LEVEL
The end of Brad Guzan's season with Aston Villa was anything but ideal, but the USMNT goalkeeper's performance has not been altered in the eyes of Klinsmann.
The USMNT head coach says that he was very impressed with Guzan's performance in Tuesday's game, as the goalkeeper provided steady hands in the back to help the U.S. survive and early Honduras onslaught.
Despite being relegated to second choice with his club, Klinsmann says that Guzan was always going to be the USMNT's top choice, reiterating his faith in the goalkeeper going forward.
"I think for Brad as well, after a tough ending as well with Aston Villa, being there on the bench, that was tough to swallow," Klinsmann said. "We knew that he was going to be our number one, so we wanted him to come in with all of the confidence in the world. It didn't work with the FA Cup final, but he's there and he will get better every day as well.
"He deserves every credit like all of the other players as well," Klinsmann added on Guzan's performance. "You come off the field against a very strong Honduras team with three points and I think we just need to go from game to game, and he will improve and get into a better rhythm. We will fine-tune a lot of things. We will have a better understanding with every training session that we get to do now.
CHANDLER, WING PLAYERS AMONG YOUNGSTERS TO IMPRESS KLINSMANN 
Despite putting on an impressive performance in the team's opening game, Klinsmann believes he is just starting to see the best of his crop of young wing players.
Stationed on the right, Timmy Chandler was paired with winger DeAndre Yedlin, while Gyasi Zardes played in front of Fabian Johnson out on the left. For Klinsmann, but maybe not most other observers, all four players proved impressive Tuesday night.
The USMNT head coach expects the quartet to improve and become even more fine-tuned as all four collect more experience.
"You see the flank play from Timmy with DeAndre Yedlin, two youngsters. You have Gyasi on one side with Fabian," Klinsmann said. "This is something that will just get better in the future. All four of them have speed, have technique, but they just need more experience.
"There are times when they need to make maybe other decisions defensively, but this will come only by experience, by games, by growing.
In particular, Klinsmann singled out Chandler's performance, as the fullback was particularly active on both sides of the ball. Despite not being perfect, Klinsmann was proud of Chandler's play and, most of all, his mettle in the face of adversity.
"Timmy had a couple of difficult moments in the first half, but then he really had a huge impact on that game," Klinsmann said. "He's a positive nature. One of his strengths is that he shakes it off right away.
"He knows he made a mistake, but he shakes it off. It doesn't influence his next touch, and I think this is really important."
SET PIECES REMAIN A FOCAL POINT GOING FORWARD
The USMNT struggled to make much of anything happen from open play on Tuesday night, but where the team did thrive was on balls in from set pieces.
Both of Dempsey's finishes came on dead-ball opportunities, with the first coming via a coreographed short corner that decended into a bit of chaos. The second was a result of a perfectly weighted ball in from Bradley, giving the U.S. the goal that would turn out to be the gamewinner.
Klinsmann and the USMNT understand the importance of set pieces, a point that was driven home with Tuesday's result. As the tournament wears on, Klinsmann expects his side to become even more clinical from dead balls as the team fine-tunes more and more in training sessions.
"It's tremendously important, no doubt," Klinsmann said. "I experienced it myself with Germany when Italy won the World Cup with 70 percent set pieces. Did they play the most beautiful soccer in that tournament? You can answer that one, but it is something that you have to train, something that you have to believe in, something that you have to be really determined to train that.
"The last couple of days, we did that. Every time we're in camp, we try to figure out some new elements of it that hopefully can give the opponent a surprise with it, but also need the players that are convinced to go after these balls and be hungry for these balls. It's a physical battle that happens on every corner kick and every free kick and I think we have a strong element in our team."