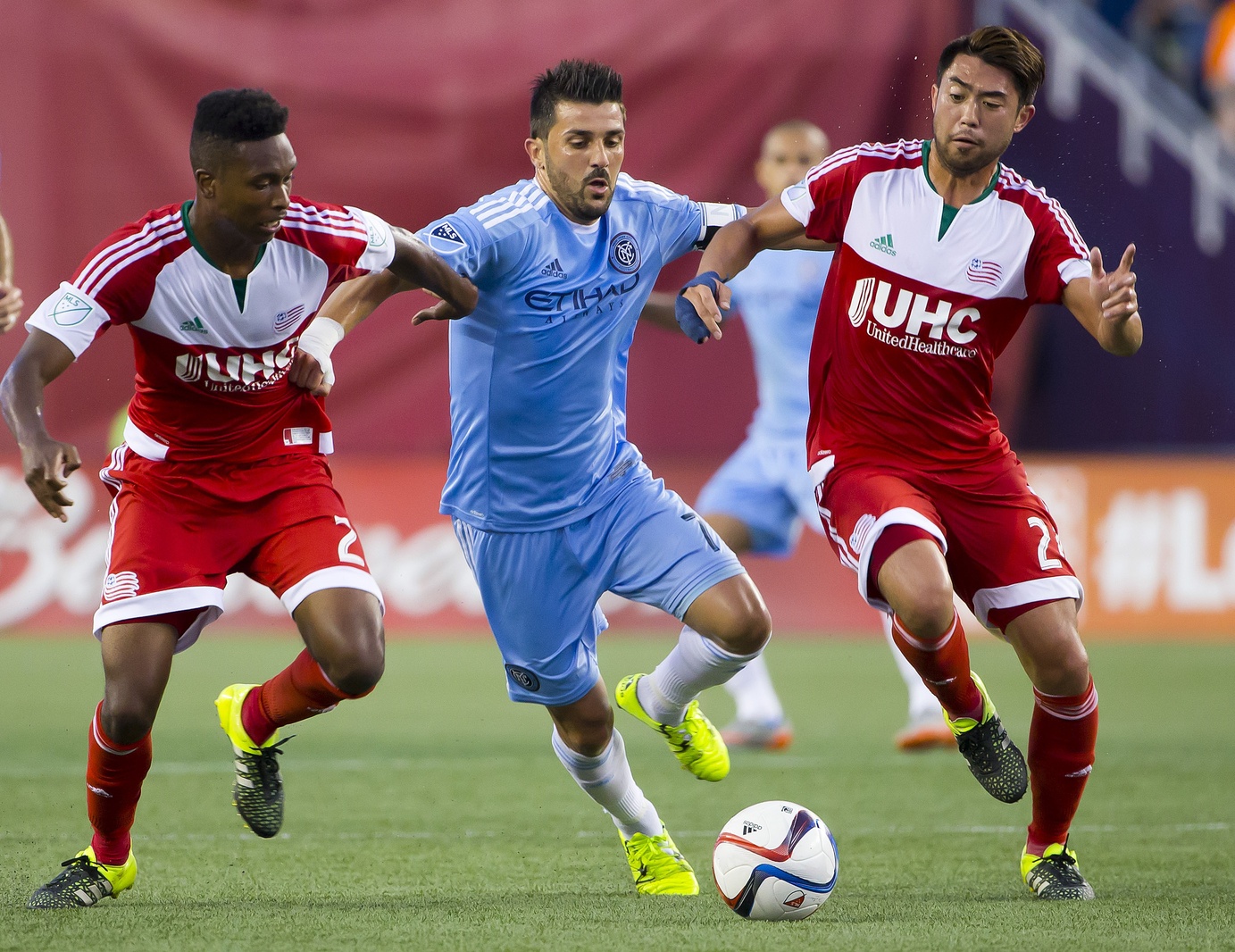 Photo by Winslow Townson / USA Today Sports Images
By ADAM TROXTELL
The harsh summer appears to be over for the New England Revolution.
A solitary goal from Lee Nguyen was all they needed to see-off New York City FC on Saturday. Nguyen struck in the 12th minute, sending a low strike past Josh Saunders for a 1-0 win that snapped a six-game losing streak that stretched back to mid-June.
And it could have been more. The Revs logged 14 shots, four of which fell on target, despite not dominating the possession game. When they did have the ball, they made it work.
Following Nguyen's goal, New England did most of the threatening, as Saunders was called into action multiple times. His work became more difficult in the 55th minute when Ned Grabavoy was shown a red card for a high, studs-up challenge on Daigo Kobayashi, who was later subbed out.
NYCFC has now won just two of its last five games and remains near the bottom of the Eastern Conference.
The Revolution have been waiting for the kind of inspiration Nguyen provided so much of last year in this six-game rut. Fortunately, this time it came, though not without a solid team move.
Kobayashi started it with a back-heel pass to Diego Fagundez. The attacking winger wasted no time, sending a first-time ball to Nguyen who gathered himself, cut inside to his right and fired past Saunders for a 1-0 lead.
Shortly thereafter, Saunders was called into action again. Teal Bunbury's shot had to be tipped over the bar, and the goalkeeper later had to do the same to a Chris Tierney strike in the second half.
Any chance of NYCFC gaining a solid attacking foothold went when Grabavoy was sent off. Were it not for Charlie Davies curling a strike off the cross bar in the 70th minute, the Revolution lead would have been two.
A stoppage-time effort from Chris Wingert from the left side that fell right into goalkeeper Brad Knighton's chest was the closest NYCFC came to providing an answer.
The Revs next hit the road on Saturday against the same Chicago Fire team they had defeated before entering their recent slump. NYCFC returns home next Sunday to face Orlando City in an afternoon clash.