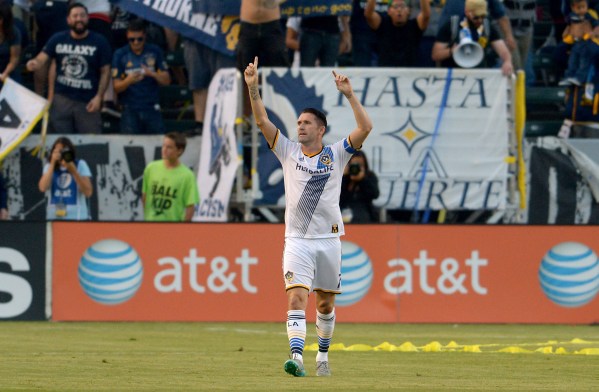 Photo by Jayne Kamin-Oncea/USA TODAY Sports
By MICHAEL PENG
On the day the L.A. Galaxy introduced Steven Gerrard to its fans, Robbie Keane gave the Liverpool legend a close-up view of what is in store for him.
Keane notched his second hat-trick in three weeks — the other in a 6-1 rout of PSA Elite in the U.S. Open Cup — and led the Galaxy to a 4-0 win over Toronto FC on Saturday, earning SBI MLS Player of the Week honors.
Keane netted two first-half goals, with one of them on a penalty kick conversion in the ninth minute and the other in the 41st off a low cross from Baggio Husidic. Keane then completed his hat-trick by intercepting a poor back pass from the TFC defense before rounding goalkeeper Chris Konopka to score on the empty net in the 59th minute.
The three goals upped the reigning MLS MVP's season total to six and his performance earned this week's SBI Player of the Week nod, edging out Columbus Crew's Ethan Finlay, New York City FC's David Villa and FC Dallas' Mauro Diaz.
——
What did you think of Keane's performance? Which MLS Player impressed you the most this past weekend?
Share your thoughts below.