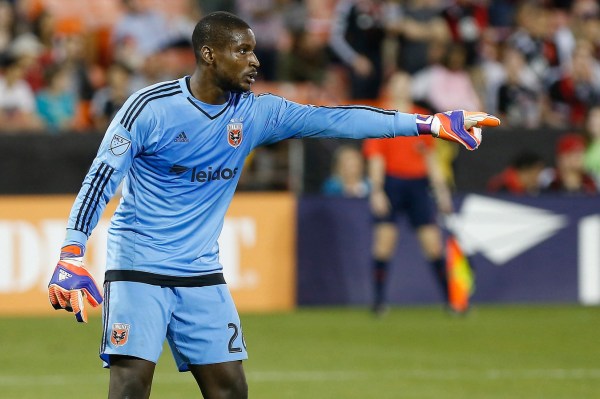 Photo by Geoff Burke/USA TODAY Sports
By MICHAEL WALLACE
In May, D.C. United made Bill Hamid the highest-paid goalkeeper in Major League Soccer. Halfway through the season, Hamid has done nothing but prove that investment justified.
Despite injuries to his right knee and left hand that will keep him sidelined for the next four to six weeks, Hamid has been consistently solid, if not special, between the posts this season. Without Hamid in goal, D.C. United has only claimed seven points in five games.
By having a keeper of Hamid's quality behind them, United's defenders have steadily grown confident as the season has progressed, tightening up enough to take their team top of the Eastern Conference despite lackluster offensive production. D.C. United has only scored 23 goals in 21 games, only better than Chicago Fire's 19 goals in 18 games.
Hamid has proven his worth in goal game after game, thwarting numerous scoring chances conceded by his defense. He was named to U.S. Men's National Team provisional Gold Cup roster before being sidelined by injury.
The 24-year-old has amassed 59 saves in 16 games while enjoying the lowest goals against average among qualifying players at 0.75. Hamid has claimed six clean sheets and is saving 82 percent of shots faced, the highest percentage in the league.
Hamid's stellar first half has earned him honors as the SBI MLS Mid-Season Goalkeeper of the year, beating out Vancouver's David Ousted, Seattle's Stefan Frei, Red Bulls' Luis Robles and San Jose's David Bingham. Here is a look at the top five Mid-Season Goalkeeper of the Year finalists, as chosen by the SBI editorial staff:
1.BILL HAMID
The reigning MLS Goalkeeper of the Year picked up right where he left off last season, stonewalling opponents and propelling D.C. United to the top of the league with 35 points. Behind Hamid's efforts, D.C. also has the highest goal differential in the Eastern Conference despite little offensive production.
2. DAVID OUSTED
Ousted has put together his own highlight reel of acrobatic and clutch saves this season, including saving two Bradley Wright-Phillips penalty shots in a 2-1 victory over the Red Bulls. Ousted has been vital for Vancouver's success and is a big reason they have gotten points on some nights. Ousted has seven shutouts and 58 saves through 20 games at the halfway point.
3. STEFAN FREI
Frei shares the MLS lead for clean sheets with eight, while conceding just 18 goals in 19 games. The Sounders keeper also leads the league in saves, blocking 80 percent of all shots faced. Frei has stepped up to fill the void left by Michael Gspurning nicely, helping the Sounders to 32 points, sitting atop the Western Conference on goal differential.
4. LUIS ROBLES
Robles has enjoyed the spoils of a solid Red Bull defense that's only let him see 65 shots in 18 games. Robles has saved 41 of these en route to four clean sheets. Not even an errant flare has been able to shake the 31-year-old, as Robles has helped keep Red Bulls in good position to climb the Eastern Conference table at the season's midpoint.
5.DAVID BINGHAM
Bingham is another goalkeeper that has had to overcome very little attacking support from his teammates. The Earthquakes' keeper has thwarted 65 shots on his net, second only to Frei. Emerging as the starter this season, Bingham has been a welcome surprise to San Jose fans and has had a major part in keeping the Earthquakes relevant in a tight Western Conference race thus far.
—-
Who is your Mid-Season Goalkeeper of the Year? Who do you think should have made the list of finalists but didn't?
Share your thoughts below.