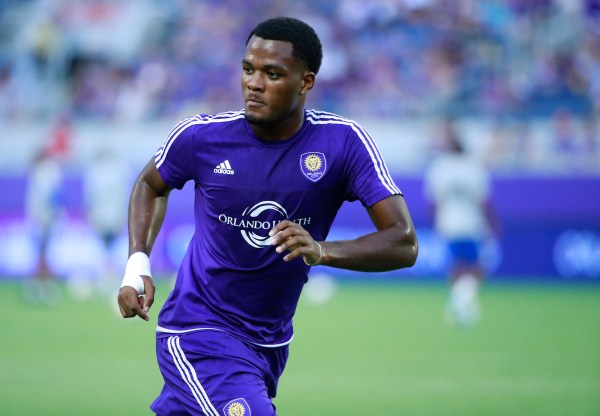 Photo by Kim Klement/USA TODAY Sports
By MICHAEL PENG
The No. 1 overall pick of the 2015 MLS SuperDraft has been every bit as good as advertised this season.
With six goals on the year at the halfway mark, Orlando City's Cyle Larin is the leader among rookies in goals, and his immediate impact on the expansion club has positioned them to be in a favorable spot for a playoff push heading into the second half.
It took only five matches before head coach Adrian Heath put his trust into the youngster, as Larin became a regular starter beginning on April 12 against the Portland Timbers and scored his first professional goal during that contest.
Since then, Larin has lived up to the hype of being the top pick and even had a stretch in which he scored a goal in three consecutive contests.
Of course, Larin has been the beneficiary of Kaka's presence in Orlando, but to be able to convert on a fairly consistent basis this early into his professional career says something about the 20-year-old forward out of Brampton, Ontario, Canada. And for that, Larin is chosen as the SBI MLS Mid-Season Rookie of the Year, as voted by the SBI editorial staff.
Larin beat out a strong list of candidates in San Jose's Fatai Alashe, Chicago's Matt Polster, Seattle's Cristian Roldan and Colorado's Axel Sjoberg. Here is a look at all five candidates that were up for the honor:
1. CYLE LARIN
The top pick out of Connecticut and Canadian international has provided further excitement to Orlando City this season in addition to Kaka. Larin still has a lot he needs to improve on, but for a rookie to be able to perform at the level he is, that's not a bad start to a career.
2. FATAI ALASHE
One of the biggest reasons for San Jose's turnaround this season could be attributed to Alashe's presence in the midfield. The Earthquakes are 7-4-3 with the No. 4 overall pick in their starting lineup and 0-3-1 without him. Alashe has been a solid two-way player in the midfield for Dom Kinnear and he even scored the first goal at the newly opened Avaya Stadium.
3. MATT POLSTER
While the Fire have struggled mightily this season, Polster has been one of the few bright lights of the season. He quickly affixed himself to the starting lineup and has proven he can hold his own whether on defense or floating around the midfield. If Polster continues to perform at this level, he is poised to develop into one of the better box-to-box players in the league.
4. CRISTIAN ROLDAN
Sounders head coach Sigi Schmid has called upon Roldan to play almost every position in the midfield this season and the rookie from the University of Washington has not disappointed. Roldan exudes energy wherever he plays and his contribution from the midfield for potent strikers like Clint Dempsey and Obafemi Martins cannot be understated.
5. AXEL SJOBERG
Although Sjoberg has been out for over a month due to a knee injury, his nine appearances earlier in the season were something of an eye-opener for the Rapids. Sjoberg's ability to defend, intercept passes and generally disrupt the opposing offense was one of the main reasons Colorado gave up just six goals in the games he played.
———
Who is your Mid-Season Rookie of the Year? Who do you think should have made the list of finalists but didn't?
Share your thoughts below.