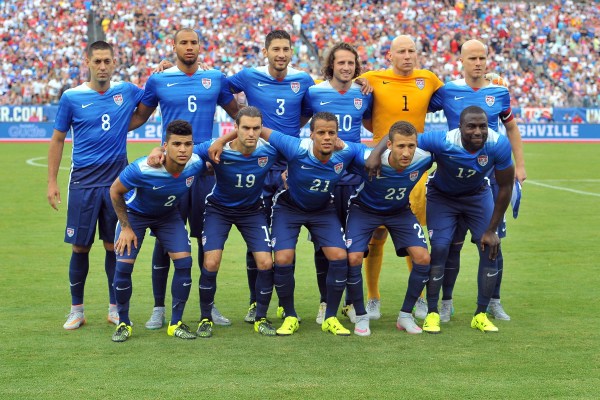 photo by Jim Brown/USA TODAY Sports
By FRANCO PANIZO
Playing two games in four days is always a challenge, especially when you are preparing to make a deep run in a month-long tournament.
Thankfully for Jurgen Klinsmann, he has a roster full of options to choose from.
Fresh off a hard-fought 2-1 win over a stubborn Honduras side on Tuesday, the U.S. Men's National Team will continue its CONCACAF Gold Cup title defense on Friday. The Americans are set to take on Haiti in their second Group A match at Gillette Stadium in Foxboro, Massachusetts, but are in need of much improvement after looking second best for prolonged periods against the Hondurans.
The U.S. has the luxury, however, of already having one foot in the door for the next round of the competition after picking up three points in its opener. As such, Klinsmann can and seems likely to make a number of changes to his lineup against a Haitian team that is physically but not technically gifted.
Taking that approach vs. Haiti, which stunned Panama with a 1-1 tie on Tuesday, makes sense given the short turnaround the Americans face. It would also allow for reserve players to have a chance to state their case for more Gold Cup minutes.
Who will we see starting for the U.S. on Friday? Here is the lineup SBI thinks could take the field: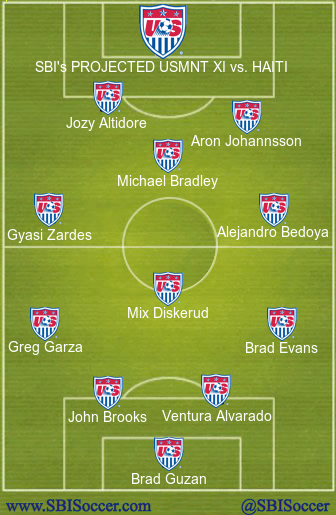 Some thoughts:
There are five changes to the squad that started against Honduras, as Aron Johannsson, Alejandro Bedoya, Mix Diskerud, Greg Garza, and Brad Evans all make their way into the lineup.
Clint Dempsey has done a great job of scoring goals since returning to competitive action a week ago – he has netted three times in two games – but he's an older player now at 32 years old and could be better served taking a breather in this one.
In Dempsey's place in this starting unit would be Johannsson, who is hungry to make his case for more minutes. Chris Wondolowski is another option to start, but Johannsson seems a better fit to partner with Jozy Altidore – who is trying to round out into form himself – after spending time with him at AZ Alkmaar.
In the midfield, two changes seem probable. Jurgen Klinsmann said recently that Alejandro Bedoya needed to work up his fitness, and this match against the Haitians provides a perfect opportunity for the versatile midfielder to do just that on the right flank in place of DeAndre Yedlin.
The other alteration Klinsmann could make is inserting Mix Diskerud in the more withdrawn midfield spot. Diskerud would not be asked to play the position like Kyle Beckerman does, but would be charged with breaking up attacks, helping keep the ball, and linking up with captain Michael Bradley and promising youngster Gyasi Zardes in the midfield.
Klinsmann has shown a propensity to pair John Brooks and Ventura Alvarado together more often than not in recent months regardless of their performances, so the two tweaks in defense are more likely to come at the outside back spots. Right back Timmy Chandler makes way for Brad Evans against Haiti just like he did in the second half of the victory over the Hondurans, and Greg Garza slots in at left back for Fabian Johnson.
In goal, Nick Rimando might be worth a look. Klinsmann, however, will probably be more keen on keeping incumbent Brad Guzan out there so as to get him in a better rhythm.
—–
What do you think about this lineup? Should Klinsmann make more changes to the lineup or is five already too many? Who would you start if you were the USMNT coach?
Share your thoughts below.