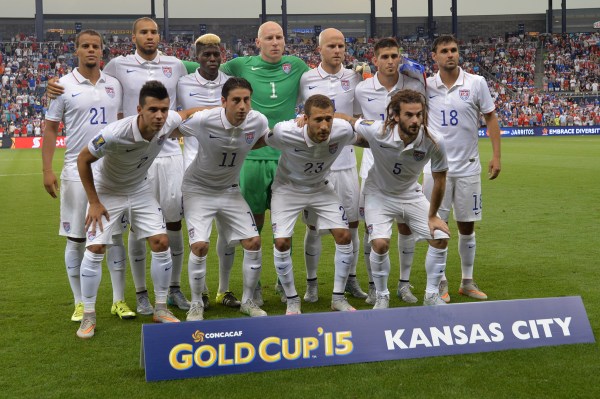 photo by Peter G. Aiken/USA Today Sports
By FRANCO PANIZO
Improvements are not just desired anymore. They are mandatory, especially given the opponent.
The U.S. Men's National Team learned on Wednesday night that it will take on lowly Cuba in the quarterfinals of the CONCACAF Gold Cup on Saturday (5 pm ET, Fox). While the Cubans should not present much of a challenge after scoring just once and conceding eight times in group play, the Americans are under pressure to win via a more complete performance.
Jurgen Klinsmann's side has failed to grab a convincing victory so far in the Gold Cup despite being undefeated through three games, and reinforcements have been brought in to help add more quality to the group. DaMarcus Beasley, Joe Corona, and Alan Gordon were all summoned earlier this week, and might be counted on to contribute as soon as in this weekend's match at M&T Bank Stadium in Baltimore, Maryland.
Klinsmann also has to decide who to replace suspended centerback John Brooks with. Tim Ream seems like the odds-on favorite, but that would leave the Americans without a physically-imposing central defense.
Which 11 players will Klinsmann go with vs. Cuba? Here is a look at the lineup  we could see: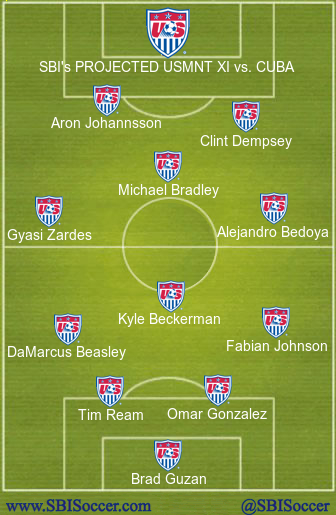 Some thoughts:
After announcing his international retirement last December, DaMarcus Beasley is likely to return to the fold here by stepping in as a starter at left back. Beasley provides the type of veteran presence that has been missing at the back for the U.S. for much of the Gold Cup, and his inclusion, combined with Timmy Chandler's struggles, would open the door for Fabian Johnson to switch from the left to right flank.
Centrally, the loss of John Brooks due to yellow card accumulation will force Jurgen Klinsmann into a change. Tim Ream should step in given he is the other left-footed centerback, but his unfamiliarity with Ventura Alvarado might force Klinsmann to insert Omar Gonzalez into the lineup. Ream and Gonzalez played together in the second group game against Haiti, and they did well as a duo after a shaky first 20-25 minutes.
Keeping possession and creating chances have been issues at times for the U.S., so bringing in Joe Corona is a possibility here. That said, Cuba should not offer up much resistance, giving Klinsmann one more chance to try and work out the kinks with a diamond midfield that has Kyle Beckerman at the base, Michael Bradley in the hole, and Gyasi Zardes and Alejandro Bedoya out on the flanks.
Bedoya was impressive in the 1-1 draw with Panama on Monday, but if he is still not deemed fit enough to go the distance then Corona or DeAndre Yedlin will get the nod. Corona seems more likely, however, given his possession-oriented style of play.
The early exit for Jozy Altidore means the starting spot next to Clint Dempsey is up for grabs. Alan Gordon might be the most like-for-like replacement, but the U.S. should be able to get by without a true target striker here.
Cuba is likely to throw numbers behind the ball, and a speedier option like Aron Johannsson or craftier player like Chris Wondolowski would seem to better suit the Americans' cause. Wondolowski is good at putting himself in scoring positions, but Klinsmann might be more tempted to go with Johannsson given how crowded and tight Cuba's penalty area is likely to be.
In goal, Brad Guzan again gets the nod.
—–
What do you think about this USMNT lineup? Is there a player who is not listed here that you think should start? How would you go about replacing Brooks and Altidore in the lineup?
Share your thoughts below.