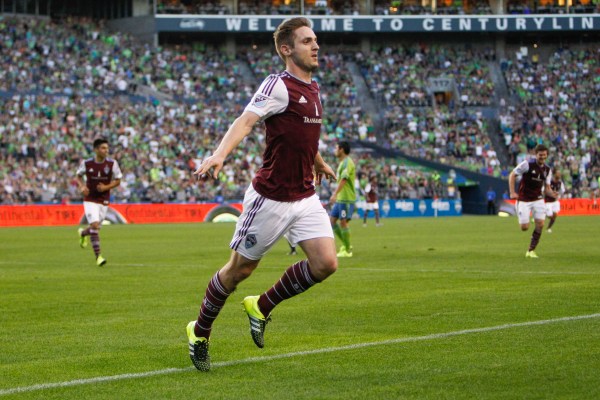 Photo by Joe Nicholson/USA Today Sports Images
By JASON MITCHELL
SEATTLE– It's a topsy-turvy world, MLS.
After the Colorado Rapids' upset win over the Seattle Sounders in front of 40,403 on a balmy Saturday night, the Western Conference cellar dwellers — winners of only two games over the season's first four months — have somehow won three straight.
The Rapids (5-6-9, 24 points) had never won at CenturyLink Field in nine tries over more than six seasons (0-8-1), and had earned just two wins in 17 all-time matches against Seattle.
"We don't have a star," said Rapids head coach Pablo Mastroeni. "We don't have, you know, big name players. We've got a bunch of guys that believe in one another, believe in themselves, and go out and do a great job and perform a tactical job to a "T."
As both teams struggled to find their footing on a temporary grass surface, it took the Rapids most of the night to break Seattle's defense.
But in the 84th minute, Kevin Doyle tracked down a booming 50-yard pass from defender Jared Watts, shouldered off Chad Marshall and rounded Zach Scott before firing past goalkeeper Troy Perkins for the 1-0 lead.
"I think [Watts] put a ball up in the air," said Doyle, "and I managed to hold off the defender and got a good strike on the ball."
Referee Baldomero Toledo granted a healthy four minutes of stoppage time, but the Sounders never seriously threatened to equalize.
The Sounders (10-9-2, 32 points) have now lost six of their last eight matches, struggling to earn results or even find the back of the net with a depleted roster.
"We've got to find our way out of this funk," said Sounders head coach Sigi Schmid, "and obviously today we didn't."
Seattle was missing Obafemi Martins and goalkeeper Stefan Frei to injury and both Clint Dempsey and Brad Evans to Gold Cup duty.
With Guatemala eliminated from that tournament on Wednesday, midfielder Marco Pappa returned to the bench for the Sounders and came on in the 64th minute for Brazilian midfielder Thomas.
Dempsey, Martins, Evans, and Pappa have combined for 16 goals and 16 assists this season. Without them, the Sounders have scored just two goals in the last six matches.
For their part, the Rapids were missing leading scorer Gabriel Torres to Gold Cup duty with Panama. They also lost Lucas Pittinari to a hamstring injury in the 28th minute. Midfielder Dillon Powers replaced the Argentine.
Players for both teams slipped and fell through the night on a temporary grass surface laid down for a Friday night friendly between Manchester United and Club America.
Seattle opened the match on the front foot, earning a decent look in just the first minute through Thomas and seeing an Andy Rose goal called back for offside a little more than 10 minutes later.
Colorado quickly gained traction, though. Doyle earned Colorado's first good look of the match in the 20th minute, unleashing a shot from 19 yards out that Perkins handled without budging his feet. A pair of dangerous crosses never amounted to anything, with multiple players slipping on the rough turf. Vincente Sanchez launched a long range shot near halftime that didn't miss the upper left corner by much.
The Sounders nearly opened the scoring twice at the top of the second half. In the 47th minute, rookie Cristian Roldan stepped into a deflected through ball behind the defense, but goalkeeper Clint Irwin charged to deny Roldan's 16-yard shot. Moments later Erik Friberg, in his first appearance since departing the Sounders more than three years ago, nearly redirected a short-range Andy Rose header across the goal line before Irwin swooped in to scoop up the ball.
Looking forward, the Sounders visit the Montreal Impact next weekend. The Rapids are off until hosting the Galaxy on Aug. 1.