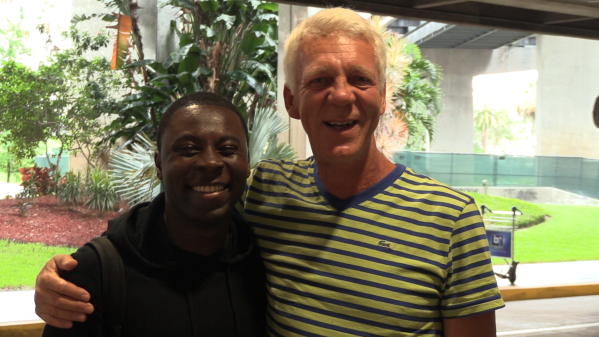 Photo by Tampa Bay Rowdies
By RYAN TOLMICH
Since departing the Philadelphia Union in 2013, Freddy Adu has seen his career sputter, to say the least. Signed by three teams in two seasons, Adu struggled for gametime, playing just seven competitive first-team games in over two years.
Now, left with the option of choosing a new home, Adu has opted to return to the safe hands of a man that has emerged as the 26-year-old's guardian angel.
The Tampa Bay Rowdies announced Tuesday that the club had signed the former prodigy, reuniting Adu with head coach Thomas Rongen. Having previously featured for Rongen as a member of the U.S. Under-20 Men's National Team, Adu has found something he has been searching for for years: someone who actually believes in him, both on and off the field.
"It feels right, let's just put it that way. He has confidence in me," Adu said Wednesday in a conference call. "So many coaches that I've played under, with my recent struggles, would maybe think twice before bringing me on, but Thomas has seen me up close. He knows what it takes to allow me to play my best and he's done it. He's had experience doing it.
"I forever believe in him and I forever believe in this team and I forever believe that this is 100 percent the right choice for me."
For Adu, the reunion with Rongen is a necessary one, as years abroad in Europe have left the midfielder feeling the need for a homecoming. Hit with a series of hurdles during his time overseas, Adu says he has not felt the love of a manager in years, making the move to Tampa all the more logical.
With his tenure at Finnish side KuPS rapidly deteriorating, Adu knew he had a friend waiting in Rongen, one that would be there to push him both mentally and physically.
Rongen believes he can do exactly that, as the Dutchman has unwavering faith in the bond that he and Adu have built in the eight years since managing the midfielder at the 2007 Under-20 World Cup.
The two have stayed in touch ever since, as the 26-year-old bounced from team to team and country to country, developing a bond that Adu says was the singular biggest factor in his homecoming.
For Rongen, the job now lies in pushing Adu to recapture the form that saw the then-14 year-old capture the world by storm, while helping him regain confidence lost through years of turns and turmoil.
"It's on Freddy at the end of the day how far he can take it, but to me, it's riding a bike," Rongen said. "No way, when I brought a 14-year-old to a U-20 World Cup and when he played a majority of the time over veterans already because he was special, you don't lose that. He's lost it to a certain extent, but not because of on-the-field situations, but as a young player, some off-the-field situations aren't very easy to deal with.
"When players I felt deserved to be there failed, I felt not right," Rongen added. "I felt like I didn't do a good enough job. They knew they could reach out to me. Freddy and I have stayed in touch off and on, not every month, but when we do talk. It's like two brothers. Nothing gets lost in translation. We just move on and pick up right where we left off. "
That brotherhood ignited the process of reuniting Adu and Rongen back in January, just before Adu signed with KuPS, a move Adu called his "last hurrah in Europe".
Struggling to get gametime once again, Adu yearned to return home to the U.S., to familiar faces, to a place where he felt wanted. Where he ended up, though, the NASL, is a league that Adu would have never foreseen just a few years ago.
Previously enamored with the idea of playing abroad, Adu says that his perception of the NASL has changed as the league continues to grow. With more exposure and more talent than ever before, Adu says he is proud to join the NASL in a decision that wasn't as hard as it may have seemed.
"My view of this league has changed tremendously. This league has gotten much, much better," Adu said. "In my early years as a pro, I didn't look. It was a good league, but it wasn't at the level that it is now. Yes, I would say I'm surprised by how receptive that everyone has been to this move. I've taken a lot of schtick in the past for some of the moves I've made, but at the end of the day, I felt like this is the right thing to do.
"Playing for someone in Thomas, I can't say this enough, someone who really believes in me. Just having that alone makes you want to work hard and literally kill yourself for the team. That's what made me come here. It was a tough decision, but as soon as Tampa came in and Thomas was here, it just made the decision much, much easier."
While the decision proved to be an easy one, Adu knows that the hard work will come in the coming weeks. Tasked with integrating himself with an already-talented Rowdies team will be a challenge, and Rongen insists that competition will be encouraged.
Still, the Dutchman admitted that he was pleased with Adu's fitness levels, while questioning any outside reports that said Adu's stamina wasn't up to snuff. With the team still awaiting clearance on the transfer, Adu could feature as soon as this weekend, although Rongen says it may be best to give the midfielder an extra week to acclimate.
Until then, the two are just happy to be reunited with a chance to once again produce something special. With both possessing an unwavering belief in one another, Rongen is glad to work with a player he finds special but, most importantly, a player he calls friend.
"It's going to take him only a few days, a week, to get back where he can be," Rongen said. "I saw today in practice that he still has some unique skills that not too many players have. I'm happy he's here. I'm happy he has faith in me.
"He's got to prove himself, and he knows that, but it's somewhat of a marriage made in heaven. My wife might not like that I say that, but I love you Freddy. It's a love fest right now."