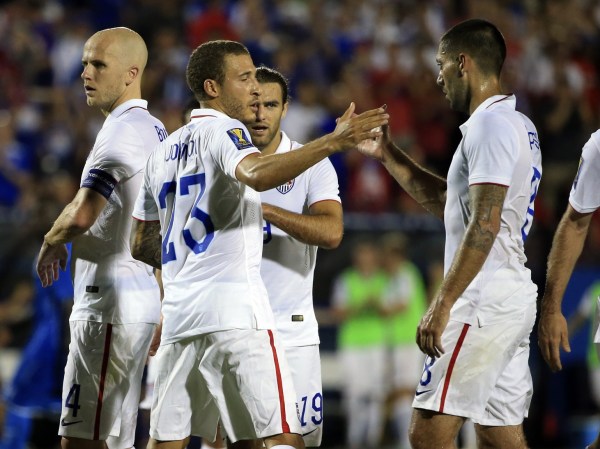 Photo by Kevin Jairaj/ USA Today Sports
By MICHAEL WALLACE
As this summer's soccer action drives on, the Gold Cup intensifies, MLS teams look for every point they can find before the All-Star break and European squads begin their preseason tours.
The Gold Cup progresses into the knockout rounds this weekend, pitting the U.S. Men's National Team against Cuba Saturday. Haiti takes on a Jamaican team that has looked like a real contender, while Trinidad and Tobago's last-gasp draw to win Group C has them facing weaker Panama as Mexico is left to face the always dangerous Costa Rica Sunday in the round of sixteen.
The International Champion's Cup kicks off this weekend as Real Madrid takes on Roma in Australia and Benfica and PSG face off in Toronto.
Meanwhile, MLS league play continues starting Friday as Steven Gerrard is set to make his MLS debut for LA Galaxy against the San Jose Earthquakes.
On Saturday, Gerrard's former England teammate Frank Lampard is expected to make his debut for New York City FC after a calf injury set him back a week. Jozy Altidore is also back from his disappointing Gold Cup performance for a red-hot Toronto FC attack that netted four goals last weekend in Yankee Stadium. Sunday, the Columbus Crew and Chicago Fire will close out the MLS weekend vying for a crucial three points before the All-Star break.
Here's a closer look at this weekend's soccer on TV:
FRIDAY
11:00 p.m.—Fox Sports 1—América vs. Manchester United
11:00 p.m.—Univision—LA Galaxy vs. San Jose Earthquakes
SATURDAY
4:55 a.m.—ESPN3—Real Madrid vs. AS Roma
11:55 a.m.—ESPN3—Swansea City vs. 1860 Munich
11:55 a.m.—ESPN3—Porto vs. Msv Duisburg
4:00 p.m.—MLS Live—Toronto FC vs. Philadelphia Union
5:00 p.m.—FOX—USA vs. Cuba
5:25 p.m.—ESPN3—Flamengo vs. Gremio
7:30 p.m.—MLS Live—New England Revolution vs. New York City FC
7:30 p.m.—MLS Live—Orlando City SC vs. New York Red Bulls
7:30 p.m.—ESPN3—Tampa Bay Rowdies vs. FC Edmonton
7:30 p.m.—ESPN3—Carolina Railhawks vs. San Antonio Scorpions
7:30 p.m.—ESPN3—Fort Lauderdale Strikers vs. Atlanta Silverbacks
7:30 p.m.—ESPN3—Jacksonville Armada vs. New York Cosmos
8:00 p.m.—Fox Sports 2—Haiti vs. Jamaica
8:30 p.m.—MLS Live—Sporting Kansas City vs. Montreal Impact
8:30 p.m.—Fox Sports Plus—SL Benfica vs. Paris Saint-Germain
9:00 p.m.—MLS Live—FC Dallas vs. DC United
10:00 p.m.—MLS Live—Seattle Sounders vs. Colorado Rapids
10:00 p.m.—MLS Live—Real Salt Lake vs. Houston Dynamo
10:00 p.m.—MLS Live—Portland Timbers vs. Vancouver Whitecaps
SUNDAY
9:55 a.m.—ESPN3—Watford vs. Paderborn
12:30 p.m.—beIN Sports—FC Basel vs. FC Vaduz
3:00 p.m.—ESPN3—Ottawa Fury FC vs. Indy Eleven
4:30 p.m.—Fox Sports 1—Trinidad and Tobago vs. Panama
5:00 p.m.—ESPN2—Columbus Crew vs. Chicago Fire
7:30 p.m.—Fox Sports 1—Mexico vs. Costa Rica