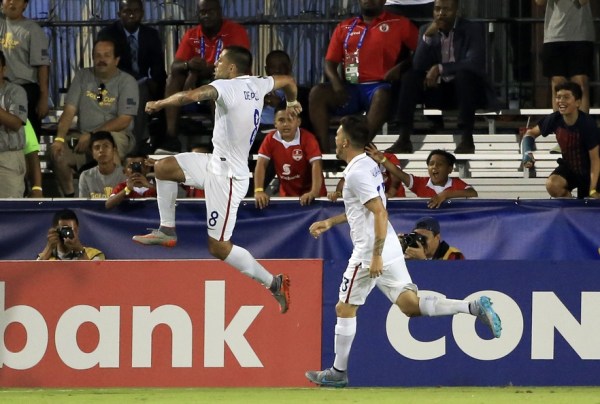 Photo by Kevin Jairaj/USA TODAY Sports
By DEVIN ELLIS
Although the Women's World Cup has finished, summer 2015 continues to be one filled with soccer action.
Gold Cup play continues this weekend, and Friday night the U.S. Men's National Team faces off against Haiti, looking to solidify their place in the tournament's second round. All other teams in the Gold Cup are set to play this weekend as well in the second round of group play matches.
Meanwhile, league play continues in MLS, starting on Friday as the San Jose Earthquakes and the Houston Dynamo will match up, both looking to improve their so far sub par seasons.
On Saturday, the Gold Cup continues with Group B matches as Jamaica plays Canada, while Costa Rica takes on El Salvador, while Sunday will see Group C  in action. Mexico fresh after their 6-0 drubbing of Cuba is set to play Guatemala in Phoenix just after Trinidad & Tobago play Cuba. Two MLS games will kickoff on Sunday as well: NYCFC will host Toronto for Frank Lampard's debut,while Sporting KC will play in Vancouver against the Whitecaps, who are also fighting for Western Conference dominance.
Heres's a closer look at this weekend's soccer on TV:
FRIDAY
1:45 p.m. – ESPN3 – Monaco vs Dinamo Moskva
5 p.m. – Fox Sports 2 USA – Honduras vs. Panama
7:30 p.m. – Fox Sports 1 – USA vs. Haiti
10 p.m. – MLS Live/Univision Deportes – San Jose Earthquakes vs. Houston Dynamo
SATURDAY
9 a.m. – Fox Soccer Plus – Valencia vs. Southampton
10:05 a.m. – Fox Deportes – Salzburg vs. Werder Bremmen
4:30 a.m. – ESPN3 – Grêmio vs. Vasco da Gama
5:30 p.m. – Fox Sports 2 USA – Jamaica vs. Canada
6 p.m. – MLS Live – Philadelphia Union vs. Portland Timbers
6 p.m. – MLS Live – New York Red Bulls vs. New England Revolution
6:30 p.m. – MLS Live – Orlando City SC vs. FC Dallas
6:30 p.m. – ESPN3 – Atlanta Silverbacks vs. Jacksonville Armada
6:30 p.m. – ESPN3 – Fort Lauderdale Strikers vs. FC Edmonton
6:30 p.m. – ESPN3 – Indy Eleven vs. Carolina Railhawks
7 p.m. – MLS Live – Montreal Impact vs. Columbus Crew
7 p.m – ESPN3 – Minnesota United vs. Ottawa Fury
7:30 p.m. – MLS Live – Chicago Fire vs. Seattle Sounders
7:30 p.m. – ESPN3 – San Antonio Scorpions vs. Tampa Bay Rowdies
8 p.m. – MLS Live – Colorado Rapids vs. Real Salt Lake
SUNDAY
4 p.m. – ESPN – New York City FC vs. Toronto FC
5:30 p.m. – Fox Sports 2 USA – Trinidad and Tobago vs. Cuba
8 p.m. – MLS Live – Vancouver Whitecaps vs. Sporting Kansas City
8 p.m. – Fox Sports 2 USA – Guatemala vs. Mexico