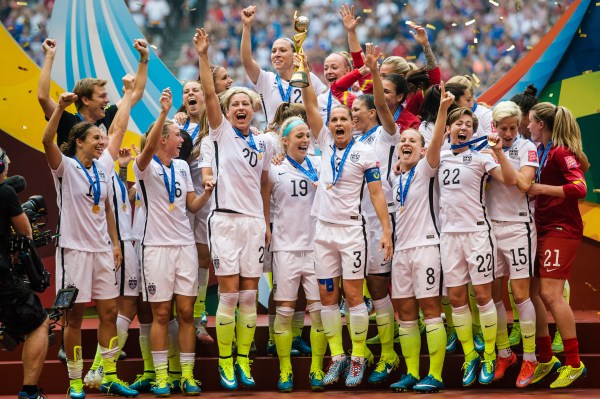 Photo by Jane Gershovich/SBI Soccer

By RYAN TOLMICH
After a 16-year wait since its last Women's World Cup triumph, the U.S. Women's National Team claimed a third star in spectacular fashion on Sunday night.
Led by a hat-trick from Carli Lloyd within the first 16 minutes, the U.S. rode four first-half goals to throttle reigning champions Japan, 5-2, in Sunday night's Women's World Cup final.
With the victory, the USWNT avenged the team's 2011 penalty kick loss to Japan while also claiming the team's first Women's World Cup trophy since 1999.
Generally pushed on by a stout defense throughout the entire tournament, it was the U.S. attack that led the way in Sunday's finale.
It took just three minutes for Lloyd to push the U.S. in front, finishing on a set piece to start the U.S. onslaught. After earning a corner in the third minute, the ball was played short through the box, allowing Lloyd to dart towards the penalty spot and finish first time for her first goal of the evening.
Lloyd's second came just two minutes later on another set piece. With a free kick out wide, the ball was deflected on by Julie Johnston at the far post. Waiting right inside the six-yard box, Lloyd proceeded to finish from close range, adding her second goal of the game within five minutes.
After a Lauren Holiday rocket furthered the misery for shellshocked Japan in the 14th minute, Lloyd's third came in spectacular fashion with a finish from just inside her own half, giving the U.S. a 4-0 lead within 16 minutes.
With Ayumi Kaihori planted off her line, Lloyd smashed a shot from the midfield, lofting the ball up and over the defenseless Japan goalkeeper to earn her hat-trick.
Now armed with a 4-0 lead, the U.S. relented just a bit in the 27th minute as Yuki Ogimi pulled one back to pull Japan within three. With the goal, the U.S. saw a 540 minute shutout streak snapped, the second longest in Women's World Cup history.
Japan pulled another goal back via a Johnston own goal in the 52nd minute before Tobin Heath calmed the USWNT's nerves with the team's fifth finish of the night on yet another USWNT set piece.
Once again taking advantage of a corner kick, Heath was set up by Morgan Brian, allowing the USWNT midfielder to tap home from close ranger to restore the three-goal advantage.
With the game firmly in hand, head coach Jill Ellis subbed in Abby Wambach and Christie Rampone in the game's waning moments as the USWNT cruised to claim the team's third Women's World Cup trophy.