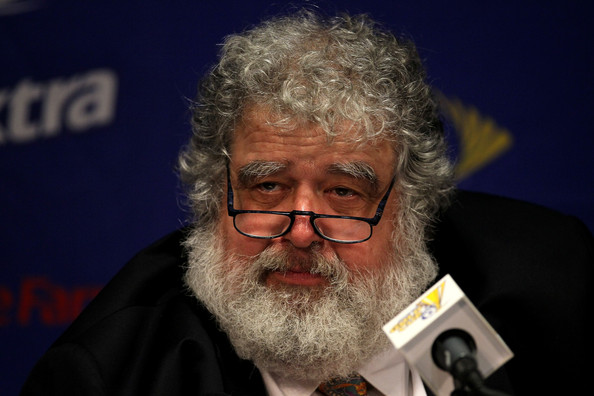 By DAN KARELL
In a move that's only served to put him back in the news again, FIFA announced on Thursday that Chuck Blazer has been banned from soccer activities world-wide for life.
The adjudicatory chamber of FIFA's ethics committee, led by Hans-Joachim Eckert, came to the decision "on the basis of investigations carried out by the investigatory chamber of the Ethics Committee in response to the final report of the CONCACAF Integrity Committee and the latest facts presented by the US Attorney's Office for the Eastern District of New York," according to a FIFA press release.
After unsealing their 47-count indictment on May 27, the U.S. Department of Justice revealed that on Nov. 23, 2013, Blazer pleaded guilty to a ten-count information, including charges of "racketeering, wire fraud, money laundering, tax evasion, and failing to file a report that he had money in a foreign bank account.
Blazer, a former CONCACAF General Secretary and FIFA Executive Committee member, helped turn CONCACAF from an organization with few assets to a multi-million dollar media and marketing giant, though charges of corruption from he and others in the organization have tarnished its image. Blazer had already been the subject of an investigation from CONCACAF in 2013, which found multiple instances of breaches of protocol and ethics.
Blazer, 70, is reportedly living out his days in a hospital as he fights colon cancer.
Here are some more stories to kick off your Thursday:
PSG READY TO MAKE OFFER FOR DI MARIA
Angel Di Maria could be on his way out of Manchester United after just one season.
The Argentine winger is the subject of a fresh report from Le Parisien that Paris Saint-Germain is preparing a €60 million transfer offer to Man United for Di Maria's services. PSG had initially wanted to sign Di Maria following the 2014 World Cup but due to Financial Fair Play punishments, they were unable to pony up a transfer fee anywhere close to the reported €75 million that Man United paid.
Now, though, with UEFA lifting the FFP sanctions on PSG, they can afford to go out and get their man. In addition to the €60 million, there's a possibility that Netherlands international Gregory Van der Wiel could go to Old Trafford as part of the deal for Di Maria.
In his one season with Man United, Di Maria scored four goals in 32 matches in all competitions.
CUBA DOWN TO 16 AVAILABLE PLAYERS AT GOLD CUP
Cuba will be fielding a full starting XI but could have an unfilled substitutes bench when they face Mexico in their CONCACAF Gold Cup opener on Thursday evening from Soldier Field in Chicago.
The Cuban delegation confirmed on Wednesday afternoon that forward Keilen Garcia, a likely starter, defected from the team to seek asylum in the U.S. In addition to Garcia's absence, six other players in the squad and head coach Raul Gonzalez have seen travel to the USA delayed due to visa issues The six players and Gonzalez are expected to arrive in the U.S. on Thursday.
Garcia becomes the latest Cuban athlete to defect to the USA, joining the likes of Osvaldo Alonso, Maykel Galindo, and Charleston battery trio Heviel Cordoves, Maikel Chang, and Odisnel Cooper.
QUICK KICKS
Fenerbahce have reportedly agreed on a £4.7 million transfer fee for Man United forward Robin Van Persie. (REPORT)
Southampton's Jay Rodriguez scored twice in his first match in 459 days, after overcoming a difficult rehab from a serious torn anterior cruciate ligament injury. (REPORT)
The French Council of State has rescinded a deal between the French leagues and AS Monaco that allowed Monaco to hold their administrative offices in Monaco and outside French territory, a rule for every other club. (REPORT)
Tottenham have completed the signing of Toby Alderweireld from Atletico Madrid. (REPORT)
Sao Paulo crushed Vasco de Gama, 4-0, to move up to fifth place in the Brazilian Serie A. (REPORT)
————
What do you think of these developments? Did you expect FIFA to ban Blazer for life? Do you see Di Maria moving to France? What do you think of Cuba's predicament?
Share your thoughts below.