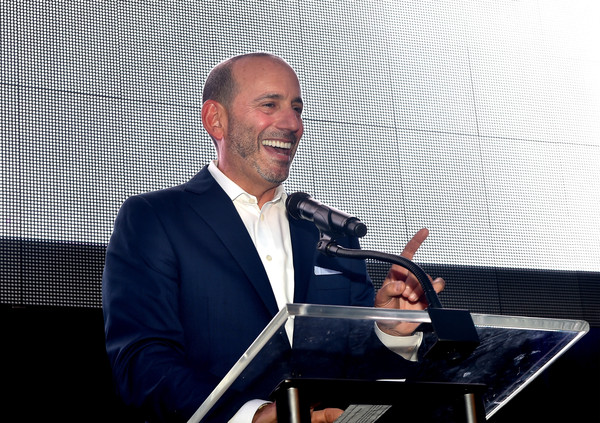 By MICHAEL WALLACE
Major League Soccer announced another partnership with a foreign broadcast company Tuesday.
The league agreed with beIN SPORTS to televise league matches live across Southeast Asia and Australia. The deal will expand the MLS' reach across seven countries throughout the region.
"This groundbreaking partnership with beIN SPORTS creates a new platform to increase MLS' exposure across the region," Gary Stevenson, president and managing director of MLS Business Ventures, said in a statement. "We are excited to have such a strong brand showcasing MLS games in Asia and Australia."
The agreement will run from the 2015-18 seasons in Australia, Cambodia, Hong Kong, Indonesia, Laos, Philippines and Thailand. Two MLS regular season matches per week will be aired along with the AT&T MLS All-Star Game, all MLS Cup Playoff games and the MLS Cup final.
Sky Sports won rights in February for a four-year deal to broadcast MLS games in the United Kingdom, while Brazil's Globosat, Letv Sports in China and more all have signed television deals. Each deal was negotiated with the MLS' new global media rights agent, IMG, as part of a plan to bring Major League Soccer to more fans around the world and grow the relevance of the league.
Here are some more MLS news and notes this Tuesday:
NYCFC SIGNS DEFENDER JEFFERSON MENA
New York City FC has bolstered their defense two days after giving up four goals at home, signing Colombian defender Jefferson Mena from Independiente Medellín.
Mena will join the team later this month and will be eligible for immediate selection pending the receipt of his International Transfer Certificate, P1 Visa and a physical, NYCFC announced Tuesday.
"Jefferson is a player I have been watching for a while and I couldn't be happier to add him to our squad," head coach Jason Kreis said. "His athletic ability and speed will provide us with a strong new option in the center back position.  He's a good technical player just about to hit the prime of his career and will add international quality and experience to the team."
In order to add Mena to the team, NYCFC traded allocation money to LA Galaxy to acquire an international roster slot in 2015 and 2016.
KAKA WANTS CONFERENCES TO FACE OFF IN MLS ALL-STAR GAME
Kaká wants to see a change in the MLS All-Star game's format.
The Brazilian midfielder says that he grew up watching American sports and was able to watch All-Star games for the NBA and NFL, and he had some thoughts of his own for where the MLS's game should go.
"It will be a great experience to meet [other All-Stars], to play with them, to play against another European team," Kaká said. "I don't know if in the future we can play conference against conference, it should be great if MLS one day does this type of game, but now is Tottenham and we need to get ready to face them."
The lone Orlando City SC selection to the team calls the opportunity a "dream come true" among a career that already includes a FIFA World Player of the Year award, the Ballon d'Or, a FIFA World Cup and a Champions League title.
CALDWELL HANGS UP HIS BOOTS AFTER 17 YEARS
After his second season with Toronto FC and 17 years as a professional, Steven Caldwell is retiring.
Caldwell, the second longest serving captain in TFC history behind Jimmy Brennan, made his decision official Tuesday morning. He will take on a new role as director of corporate development with Maple Leaf Sports & Entertainment, who owns TFC.
"It's with a heavy heart that I announce my retirement from the game I love," Caldwell said in a statement released by Toronto FC. "Football has been my life since a very young age and I appreciate the opportunity I've had to live out my dreams. I would like to thank all my teammates and coaches I've learnt from along the way, creating friendships and bonds that will last forever."
The 34-year-old joined TFC in May 2013 on loan from Birmingham City F.C. and signed a permanent contract less than a month later. Caldwell made 49 appearances for the club, wearing the armband in 40 of them, and scored one goal.
Caldwell played his final match March 14 in Columbus. He was substituted off at half-time due to injury.
RED BULLS SLASH TWO-THIRDS OF NYCFC TRAVEL TICKETS
The Red Bulls have cut down New York City FC's traveling supporters' tickets for their Aug. 9 match amid safety concerns.
The Red Bulls confirmed the reduction from 1,500 to 500 is a result of bad behavior and safety concerns over the blue-clad NYCFC contingent. In the first matchup at Red Bull Arena on May 10, NYCFC fans set off smoke bombs and threw a flare onto the field.
"At the last NYCFC game, several smoke devices were lit inside and around Red Bull Arena, including some that were thrown onto the field, causing issues with the match and safety concerns of the fans seated in close proximity,'' a Red Bulls spokesman said. "Although the leaders of the various NYCFC Supporter Group tried to, they were unable to curb the actions of the large group inside the Arena.''
NYCFC fans violated several Red Bull Arena policies in their first-ever Hudson River Derby, including tossing a flare that landed near Red Bulls' keeper Luis Robles and forced a stoppage in play.
—–
Think the MLS is doing a good job expanding its global audience? Will NYCFC's addition of Mena help their struggling defense? Do you agree with Kaká's thoughts about the MLS All-Star game?
Share your thoughts below.