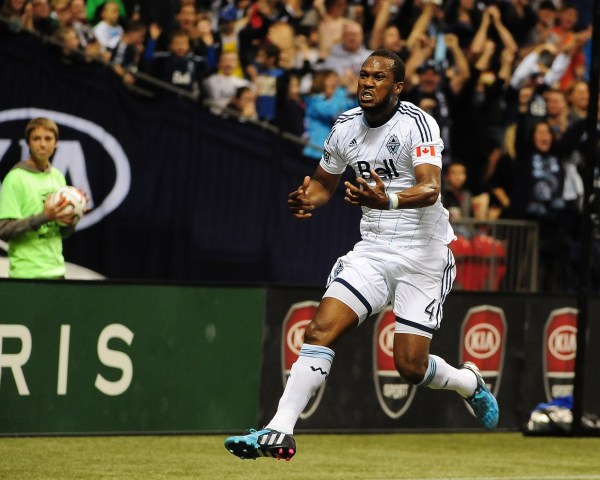 By AARON CRANFORD
For Saturday and possibly longer, the Vancouver Whitecaps will have to make due without one of their most consistent defenders.
Costa Rica head coach Paulo Wanchope has called Kendall Waston into his squad in preparation for its quarterfinal clash on Sunday in the 2015 CONCACAF Gold Cup.
Waston has started 19 of 20 games for the Whitecaps this season, but will now be unavailable for Saturday's meeting against Cascadia rivals the Portland Timbers. If Costa Rica advances to the semifinals, he may also miss the match against the San Jose Earthquakes on July 26.
The 27-year-old defender has only appeared twice for La Sele, but contributed to shutting out each opponent in both games.
Here is some more MLS news and notes this Wednesday:
COREY ASHE JOINS ORLANDO CITY FROM DYNAMO
Orlando City SC filled a hole by acquiring an MLS defensive veteran that needed a change of scenery.
Corey Ashe is now a member of the Lions after being traded by the Houston Dynamo on Tuesday for allocation money and a second round pick in the 2017 MLS SuperDraft. He will be ready to suit up in purple as soon as Saturday when Orlando City hosts the New York Red Bulls.
"Corey brings a high level of experience and league success to the Lions," general manager Paul McDonough said in a club statement. "We expect to see his immediate contributions to the club and look forward to having him in Orlando City purple."
Aside from being a nine-year veteran, Ashe is a two-time MLS All-Star and also has an MLS Cup to his name, winning the title in his rookie season with the Dynamo.
CLUB AMERICA TOPS EARTHQUAKES IN ICC COMEBACK
For a majority of the Tuesday's International Champions Cup match, Club America looked in complete control of the game in every facet but the scoreline. However, two late goals gave the visitors a much-deserved 2-1 win vs. the San Jose Earthquakes.
Clarence Goodson headed in the Earthquakes' goal early on, much to the delight of blue-and-black-clad supporters at Avaya Stadium. Yet, Andres Andrade and Francisco Rivera netted within seven minutes of each other to close out the match and give the Liga MX side and recent CONCACAF Champions League winner the victory.
The match was anything but a friendly on the night, as two red cards were handed out before the final whistle — one to Sanna Nyassi and one to Club America captain Paolo Goltz. Earthquakes head coach Dominic Kinnear was also ejected before the end of play.
UNION THUMPED IN FRIENDLY WITH AFC BOURNEMOUTH
Newly-promoted AFC Bournemouth has a tough road ahead in its upcoming and first-ever English Premier League season, but  preseason has started off well against an MLS opponent.
The Philadelphia Union hosted Bournemouth at PPL Park Tuesday, and despite Richie Marquez scoring a goal after a Sheanon Williams cross, the Union were gobsmacked, 4-1.
Joshua King and Callum Wilson tallied the first two of the evening before the Union's goal, and Marc Pugh and Tokelo Rantie put the game out of reach for the home side.
—
Think the Whitecaps will make due without Waston? Do you think Corey Ashe will boost Orlando City's defense? Surprised to see the Earthquakes-Club America become so chippy?
Share your thoughts below.