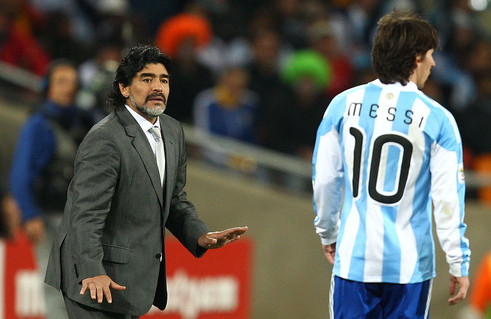 By RYAN TOLMICH
Lionel Messi will always be compared to the greatness of Diego Maradona, but the man himself has now come out to offer a bit of criticism to the Barcelona forward.
Following Argentina's Copa America loss, Messi has once again come under criticism, prompting Maradona to state his belief that Messi should not be babied or treated differently by those that support the national team.
"We have the best player in the world, one who can go and score four goals on Real Sociedad and then he comes here and doesn't score at all," Maradona said. "You would say, but man, are you Argentine or Swedish?  Messi needs to be treated just like we treat all the other players who put on the national team uniform. He is the best in the world, for better or worse. But look, he didn't kill or rape anyone. Let's not turn this into a soap opera.
"Those who criticize him with the aim of helping him improve, that is fine. Now, those who put up a poll asking him if he should be playing on the national team or not, you guys are off topic, that is wrong. Now we are talking about changing the president. We don't have to go to such extremes but neither should we be content with always being runners-up."
Here are some more news and notes to kick off your Tuesday morning:
CHICHARITO LINKED TO WEST HAM MOVE
Javier 'Chicharito' Hernandez may be the subject of links to MLS, but that doesn't mean that teams from the Premier League won't continue to knock.
Chicharito has reportedly drawn interest from West Ham, who have made a $14 million (£9M) bid to acquire the forward from Manchester United. The club is reportedly interested in completing a big-time summer spending spree with the acquisition of the Mexican international, who the club believes would take a pay-cut to get more playing time away from Old Trafford.
If West Ham are to make the move for Chicharito, he would become the latest addition to the club in a busy summer that has seen the signings of Pedro Obiang, Dimitri Payet and Angelo Ogbonna.
The Mexican international, who is out of the Gold Cup due to a collarbone injury, scored nine goals in all competitions while loaned to Real Madrid last season.
XAVI CRITICIZES REAL MADRID IN WAKE OF CASILLAS DEPARTURE
As a player who has also departed his longtime club in recent weeks, Xavi was quick to offer sympathy to his countryman Iker Casillas.
Xavi came out in defense of Casillas, stating that the goalkeeper has been wronged by both Real Madrid and the people of Spain. Referring to Casillas as "a good person", Xavi says that he wasn't pleased with Real Madrid handled the departure of a player that he has played with as far back as 1997.
"That's why it leaves a bad taste what is happening with him now," Xavi siad. "In recent years, I have seen that he is not enjoying himself like before. He even seems bitter and I think everyone in this country should think about this. It cannot be that maturing Spanish athletes are not shown sufficient respect, that people neglect to value everything they have done for their sport and instead focus on their defects, sometimes with malicious intent.
"I look at Iker and I have the feeling that lately he is playing under pressure, as if he has to prove what a great keeper he is in every match, without the joy he always had. Now he is going to Porto and I am sure he will be welcomed as a hero. Away from here they will appreciate him more."
QUICK KICKS
Former Arsenal midfielder Andrei Arshavin has departed Zenit St. Petersburg to join Kuban Krasnodar. (REPORT)
Tottenham goalkeeper Hugo Lloris has suffered a fractured wrist that may keep him out for the start of the season. (REPORT)
Newcastle midfielder Cheick Tiote has been denied a visa ahead of the club's visit to the U.S. (REPORT)
Russia has terminated the contract of manager Fabio Capello three years before its expiration. (REPORT)
Alexis Sanchez will miss Arsenal's season opener to recover from the Copa America. (REPORT)
—
What do you think of Maradona's statements regarding Messi? Where do you see Chicharito ending up? What do you think of Xavi's defense of Casillas?
Share your thoughts below.